Pride and Prejudice
by Chandi Sinnathurai
THE LATE Mr. Kadirgamar prided himself solely as a Sri Lankan while distancing himself as a Tamil. The harsh reality of it all is that the Tamils around the world have refused to mourn the death of this prodigal son who with style and finesse betrayed his own roots.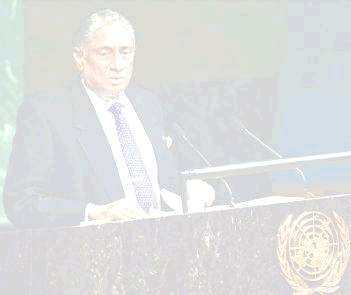 Many have praised Mr. Kadirgamar's oratorical skills and his great intellect. Often people pose the question – especially the suffering people, such as the Tamils - as to the value of keen intellect. Was the intellect of Mr Kadirgamar used for the common good of human persons? Or was it utilized for the selfish benefit of political gain only to confirm his prejudice against his own suffering people?
Even in his death Mr. Kadirgamar remains an enigma. Who killed the FM? So many theories coupled with forensic foibles and delusions of grandeur have been circulated in the Media. It is slightly embarrassing to note that even the Western media has gobbled up the Sri Lankan flights of fancy! There is hardly any evidence found in order to level accusations against the LTTE of Lukshman's assassination. The LTTE has, however, uncategorically denied their involvement. As usual, the charm offensive of the State propaganda machine against the Tamils is working over time. In Sri Lanka, though, the suspicions of many are pointed towards the Horogolla Mafia.
In life as in death, this intellectual sadly remains a mental mess!
The new FM will have no problem in following the foot steps of his predecessor – at least in the matter of fine wine and women. It is expected that Anura will not court any controversies - let alone any embarrassments - on the international stage, as he is the firmly established, beloved clown prince of Horogolla.
Glorified
Mr. Kadirgamar dedicated his life and death to betray the Tamil cause. In his fine mind he contemplated that the Sinhala nation posed no threat to the Tamils and therefore believed that all this talk of emancipation of the Tamils from Sinhala hegemony was, in fact, a fiction. It is in this fictional political landscape that the late FM swam his last. Could it be that in his delusions he succumbed to his fictions?
Mr. Kadirgamar represents a clan of Tamils who still live in a sort of fantasy-land, who like to boast of their high connections to the Sinhala ruling elites and who would like to convince others that living a life of a slave in gilded chains is better than living and dying with human dignity, honor and freedom. Such a clan will be praised by their masters and only to be made extinct once 'run out of use.'
It is in such glorified environment divorced of all realities that the late Mr Kadirgamar was kept, used and conveniently lost.
Sadly, his death is a 'great loss' to his puppet-masters. And yet another great lesson to those Tamils who still live and boast in gilded cages.
'All the President's horses

And all the President's men

Couldn't put Humpty back together again…'
###
Posted September 3, 2005