After New Talks, India Says It May Pull Troops From Kashmir
by Somini Sengupta, The New York Times
NEW DELHI, Sept. 5 - India will pull back troops from the disputed territory of Kashmir if militant infiltration and violence ends, the prime minister's office announced Monday evening after a rare meeting with Kashmiri separatists.
The meeting, between Prime Minister Manmohan Singh and the All Parties Hurriyat Conference, a coalition of moderate separatists from Kashmir, came barely a week before the leaders of India and Pakistan are to meet during a United Nations General Assembly session in New York. Pakistan has expressed growing frustration with what it calls New Delhi's reluctance to tackle the problem of Kashmir.
The region is the only Muslim-majority state in Hindu-dominated India, and it is at the heart of a half-century conflict between the two South Asian neighbors. Since 1989 Kashmir has been roiled by an anti-Indian insurgency that India blames Pakistan for, and that Pakistan says it supports only by moral and political means. The Hurriyat leaders recently met with President Pervez Musharraf of Pakistan.
In the statement, the prime minister's office said it would also review the cases of all those held under special preventive detention in Kashmir and take steps to "safeguard against human rights violations."
The most far-reaching pledge was on pulling out troops, whose presence across Kashmir is an enduring source of anger and alienation among many Kashmiris.
"The prime minister said that if there is a cessation of violence and an end to infiltration, conditions will be created for the reduction of armed forces," the statement read. "It was agreed that the only way forward is to ensure that all forms of violence at all levels should come to an end."
In an interview with the private New Delhi television station NDTV, the leader of the separatist coalition, Mirwaiz Umar Farooq, heralded the talks as the start of a credible conversation. "For first time, there seems to be a realization in Delhi that we need to have a solution in Kashmir, an honorable solution," he said. "It was definitely a very good beginning."
---------------------------------------------------
Key Kashmir Peace Talks Welcomed
by BBC
The first ever talks between an Indian prime minister and a moderate faction of the main Kashmiri separatists alliance have been widely welcomed.
Analysts and the Indian media have described the meeting between Manmohan Singh and the separatists as historic.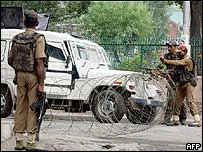 But many Kashmiris have downplayed the talks in Delhi, saying they prefer to wait to judge the outcome.
Mr Singh said he would reduce troops in Kashmir if violence and infiltration by militants came to an end.
The meeting between the Indian prime minister and the moderate wing of the Hurriyat Conference, the leading separatist alliance opposed to Indian rule in Kashmir, lasted for nearly three hours.
The BBC's Sanjeev Srivastava in Delhi says the significance of the talks cannot be under-estimated, both in terms of symbolism and substance.
The prime minister also agreed to review all cases of detention and said that the government would take "all necessary measures" to safeguard against human rights violations, according to a government statement.
He also said that Delhi would not tolerate any instances of human rights violations
"The promise of stemming rights abuse is a welcome gesture but what makes it very important is that this one-on-one is the first direct contact between an Indian head of government and the Hurriyat," political scientist Rajendra Dayal told the AFP news agency.
Pakistan, which also lays claim to Kashmir, welcomed the meeting.
"We think that it will basically strengthen the peace process between Pakistan and India," foreign ministry spokesman Mohammed Naeem Khan said.
Sceptical
But others are more cautious in their reaction.
"The use of the words on troop redeployment means very little. They are good words and very good sentiments have been expressed but the 'ifs' and 'buts' are there," analyst Pran Chopra told AFP.
Reports from Indian-administered Kashmir say that people remain sceptical about the withdrawal of troops.
There are an estimated 400,000 Indian soldiers posted there.
"I think the dream of seeing troop-free streets is still a distant one," Shameema Mir, a high-school teacher, told AFP.
"I don't think any significant progress was made during the talks. The condition of an end to violence attached to the troop withdrawal makes me feel sceptical."
More than 40,000 people have died in 14 years of insurgency in Kashmir.
But hopes of a settlement to the long-running dispute have been raised after peace talks began between India and Pakistan last year.
###
Posted September 6, 2005