Forum on Upcoming New Zealand Elections
The Consortium of Tamil Associations in New Zealand (COTANZ) organised a political forum for the forthcoming New Zealand 2005 Election, which is going to be held on 17 September 2005. The name of the forum is: Election - 2005: Which Policy is for You ???. The main parties' representatives were invited to present their party policies. The forum was held on Saturday, 3rd of September 2005 at 3:00PM at Mt Roskill War Memorial Hall, Mt Roskill, Auckland.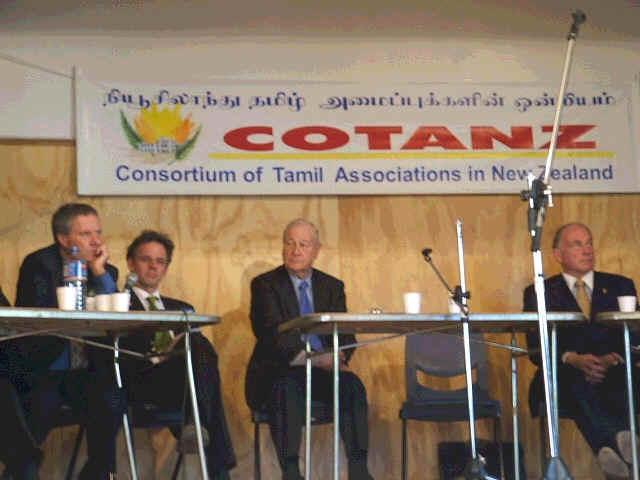 Foreign Minister Hon Phil Goff, MP represented the Labour party and Dr Richard Worth, MP represented the National Party. These two are the major parties in New Zealand. Rodney Hide, MP from ACT Party, Patrick Brown from the Communist League, Keith Locke, MP from Green Party, Hone Harawere, from the Maori Party, Dail Jones, MP from New Zealand First Party, Hon Matt Robson, MP from the Progressive Party and Bernie Ogilvy, MP from United Future were also present at the meeting. Gordon Dryden facilitated the meeting. Gordon Dryden is the Auckland-based co-author of the world's biggest-selling non-fiction book, The Learning Revolution. He has a long background as a press, radio and television journalist, including seven years as an Auckland radio talk show host and is a pioneer in audience-participation television programmes and TV current-affairs interviewing.
COTANZ coordinator George Arulanantham welcomed the party representatives and audience. In his welcome speech, he said most of the Tamils living in New Zealand came here to escape ethnic conflict and civil war in their homeland. He also said "We are first generation migrants. Still our families, close relatives and friend are living there. Therefore the war, ceasefire and peace process - everything that is happening there - has an impact on our day-to-day life here." He added that, while we think of ourselves as New Zealanders, we cannot forget that we are also ethnic Tamils.
Then a minute of silence was observed in honour of Rt Hon David Lange, Former Prime Minister, who was recently died and to honour Tamil brethren who lost their lives to pave the path for the ceasefire and the ongoing peace process in Sri Lanka.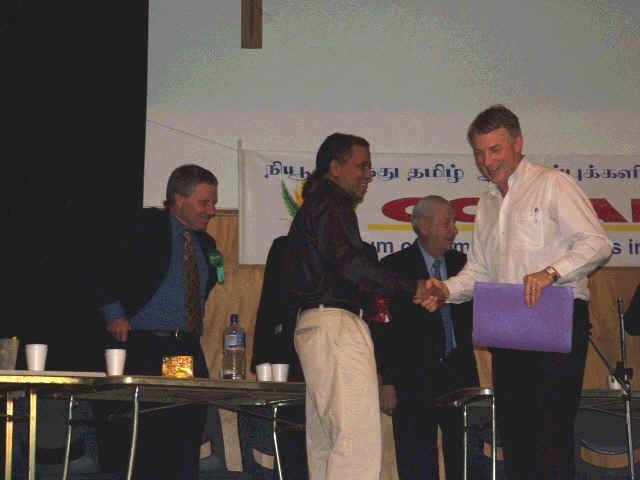 Foreign Minister Hon Phil Goff and George Arunanatham
Then the party representatives spoke about their party polices. At the end Raja Rajasekarm, National coordinator of the COTANZ gave a vote of thanks. He came to the meeting from Wellington.
After the vote of thanks, party representatives answered questions from the audience. After the question session, COTANZ executive members wished the party representatives well and gave a present to each speaker. In the concluding speech, George Arulanantham said that Tamils in New Zealand have two faces, New Zealanders and ethnic Tamil. He also said that, as a New Zealander, he wishes all the Party representatives and leaders the best for their contribution to New Zealand and, as a Tamil, he wishes our Nationís Leader and Leaders in Vanni well for their continued effort to bring freedom to Tamils.
###
Posted September 13, 2005