Boca Doctor's Ideals Bring Him to Refugee Camp in Sri Lanka
By J0HN LANIIGUA
Two weeks ago, he set out for Sri Lanka...Tent City is populated entirely by members of Sri Lanka's Tamil minority, while the members of the military who guard the camp belong, largely, to the Singhalese majority.
"The army is filling trucks with food meant for the refugees and driving that food out of the camp," says Schuster, who believes ethnic prejudice may be affecting distribution of aid all over the country. He has been outspoken in saying so.
THIRUKKOVIL, Sri Lanka –
Dr. Mitchell Schuster lives two dramatically different lives.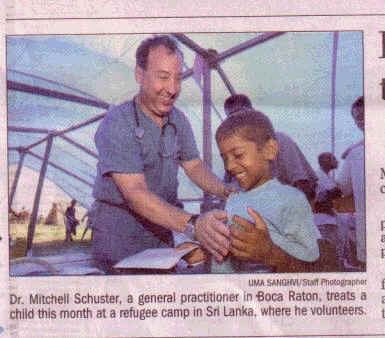 One is in Boca Raton, where he practices general medicine and where almost all-his patients "range from up per class to wealthy."
His second life — the one he longs for — he passes in places like this one: a barren, windblown refugee camp on the coast of Sri Lanka, which was ravaged by the Dec. 26 tsunami. They call it Tent City, and it contains about 3,000 destitute people.
On a recent morning Schuster held clinic under a blue plastic United Nations tarp on a dirt floor. His examination room consisted of a scarred wooden table rescued from the floodwaters.
He put questions to his patients that he certainly has never had to ask his Boca clientele.
"Do you own a bar of soap?" he asked a young man with a serious skin rash.
"Do you have clean water to drink?" he inquired of another patient who had reported diarrhea. "Do you sleep on a bed or on the ground?" he asked a little girl with an ugly infected wound in her leg.
Schuster, 49, with the help of his assistant, Andrew MacLean, 26, of Delray Beach, dispenses medicines out of large cardboard boxes he brought from Florida.
No patient receives a full vial of pills even if they might need it because there are too many people to treat. In the case of the man with the rash, Schuster squeezes a dollop of medicated cream into a plastic bag and sends him off with instructions for its use.
It is a far cry from his Boca clinic, which Schuster, once an aspiring artist, has decorated with kitschy art of his own creation. No art hangs under the U.N. tarp, and the most sophisticated equipment he employs is his thermometer.
But standing on the dirt floor under the flapping windblown plastic, Schuster smiles.
"Don't get me wrong, I like my patients in Boca," he says, "but I always feel a bit alienated there. This is where my heart is."
So how did a nice Jewish general practitioner from Boca get a bug for practicing medicine in some of the worst conditions on the planet?
It all started with a cow.
Schuster, on a Caribbean vacation in St. Vincent and the Grenadines in 1979, was mistaken for a doctor. An old woman's cow was dying as it tried to give birth, and locals begged Schuster to help her.
"I'd never done anything like that before, but I put my hand up the cow and pulled out the calf," Schuster says.
That appears to be the moment when the would-be artist, then 24, found his true calling. And a fairly specific calling it was.
"It wasn't just to be a doctor, but to practice medicine in the Third World," he says.
Dreams and detours
First he had to find a place to study, and he had no idea where it would be. In the end, he received help from a distinctly unusual source: the notorious dictator of the Philippines, Ferdinand Marcos.
"I was acquainted with someone who knew him, and through that contact I was admitted to Far Eastern University in Manila," says Schuster, who adds that he later supported the 1986 rebellion that overthrew the strongman.
The next influence to come along in Schuster's life was a beautiful Filipino girl.
He studied for five years, from 1982 to 1987, including a kind of internship in a rural fishing village, Bulabog, in Bicol province. Along the way, he met his future wife, Tess, the daughter of a village fisherman. Her life experience only fortified Schuster's professional plans to work with the poor.
"Of 13 siblings in her family, seven died before the age of 5," he says.
After finishing his studies, Schuster and Tess started a clinic in the area, only to see it destroyed by a typhoon around 1990. The tropics wouldn't cooperate with Schuster's life plan, at least not then. He plans to try it again some day and has founded the Bicol Clinic Foundation to collect money for that purpose.
But at that time he took a detour back to the United States. His children were being born — he and Tess now have four — and Schuster had to support them. He moved his brood to Ohio, where among other work he spent six years practicing in a hectic hospital emergency room.
"That experience was vital to what I want to do," he says. "It made me fearless in the practice of medicine."
So fearless that in the 1990s he showed up at a U.N. refugee camp in Somalia during the brutal tribal wars there. Somalis fleeing the violence of the local warlords came to his door with wounds but also with critical malnutrition and dehydration.
"They had such low blood counts that they needed immediate blood transfusions in order to survive," he said. For many, it was too late.
Called to troubled spots
Schuster returned to Ohio, moved to Florida in 2000 and the next year took over the practice of a retiring physician in Boca. The Schusters live in Fort Lauderdale, where the youngest two children are in high school. The older two attend Tulane University in Louisiana.
Schuster has settled in, but he "escapes" from time to time, showing up in far corners of the world wearing his stethoscope and his scrubs. In 2002, he worked briefly in a poor village in Nepal, in a region that he shared with Maoist guerrillas.
Two weeks ago, he set out for Sri Lanka, where he finds himself in the midst of one of the greatest natural disasters of his time, one that has claimed some 40,000 lives in Sri Lanka alone. Schuster shares the medical tent with other volunteer doctors, including Australians and Germans.
That large tent is surrounded by hundreds of smaller ones pitched close together, each made of one sheet of plastic, all with dirt floors. People sleep on mats and cook over wood fires. They eat rice and curry and not much else, Schuster says. If it rains, there is no way to avoid the mud. Some leave their shoes neatly outside their tents, but it is the same dirt inside as out.
The children have bounced back, and they play. As for the adults, most are resilient and manage smiles at times. But they are from local fishing villages that are now barely discernible ghost towns, shattered foundations almost buried by sand. They have no idea what the future holds. They no longer have homes or boats, and many, at the moment, still fear the sea.
Tricky politics and goat stew
Schuster is here for two weeks to alleviate their discomfort to the degree he can while the people recover their spirit. He was able to convince some of his well-to-do patients in Boca to help him.
"One wrote a check for $10,000, two others for $5,000, and others contributed as well," he said.
With that money, Schuster purchased medicines and other medical supplies in the U.S. Once in Sri Lanka, he bought books, notebooks and pens, which he has passed out to schoolchildren in refugee camps and in surrounding towns, students who lost everything in the tsunami.
He has found universal vitamin and protein deficiencies in camp residents and is trying to fight them. This past week, he inquired about buying a herd of goats to make an enormous stew and feed the entire Tent City to boost the protein level. It was a quirky idea that appealed to Schuster despite the doubts of those around him.
Just as in Nepal, Schuster is working in the midst of a tricky political situation. Tent City is populated entirely by members of Sri Lanka's Tamil minority, while the members of the military who guard the camp belong, largely, to the Singhalese majority.
"The army is filling trucks with food meant for the refugees and driving that food out of the camp," says Schuster, who believes ethnic prejudice may be affecting distribution of aid all over the country. He has been outspoken in saying so.
At times, he has shared the medical tent with representatives of the Tamil Tigers, a guerrilla group that has fought the government sporadically since 1983 in a war that has claimed thousands of lives. At the moment there is a cease-fire, and the Tigers are passing out food to the refugees. But there is fear that if the alleged inequities in aid distribution continue, fighting could break out again.
Despite that, Schuster seems at home shoulder-to-shoulder with his Tamil patients and the Tigers. Maybe that is because he is a rebel himself when it comes to the policies of his own government in Washington.
"Under Bill Clinton, we started to get a sense of a community of man," Schuster says. "The administration of George W. Bush has embraced a nationalism that is against everything I believe in.
"Hopefully, this tsunami disaster will serve as a slap in the face, snap them out of it and show them the need for international cooperation."
Healing power of presence
But politics isn't Schuster's principal business. Medicine is, and he returns to the terrible aftermath of the tsunami and the long, ragged line awaiting him under the hot blue plastic.
A patient steps up named Thambalai Thangaraja, 48, a haggard, unshaven fisherman who complains of back and leg pain. He is asked how he strained himself.
"I had to carry many bodies," he says, looking away shamefully and speaking almost in a whisper.
He explains that he had to collect 32 bodies of family and friends in a nearby village and carry them to improvised graves.
Schuster says later that the man's pains are almost certainly more psychosomatic than physical. Burying that many of your loved ones and acquaintances takes an unfathomable emotional toll. But Schuster gives him some anti-inflammatory medicine for his pain.
Schuster also sees real wounds, fevers and cases of pneumonia. One day last week, a man walked in who Schuster suspects may have tuberculosis. Schuster says that, due to the close living conditions, the greatest danger facing the camp is the risk of epidemic — cholera, dysentery, TB.
But he accepts the fact that, for now, the majority of ailments reported to him may be signs not of disease but of stress and grief.
He understands that his presence, rather than his pills, is the strongest medicine he has to offer.
"Given what these people have been through, they need us," Schuster says. "They need our attention, they need our love."
Palm Beach Post, Palm Beach, Florida
###
Posted January 23, 2005