President Clinton on Serving as Special Envoy of Secretary-General of the United Nations
(Press Release)
February 1, 2005
Statement From The Office of President Bill Clinton
from www.clintonfoundation.org
"I look forward to serving as the Special Envoy of the Secretary-General of the United Nations for Tsunami-affected Countries beginning next month, and I will have more to say about that when a formal announcement is made by Secretary-General Kofi Annan in March. In the meantime, I continue to focus on my work with former President Bush to urge people to contribute to this cause, and the two of us hope to visit the region together later this month."
Contact:
Press in the Office of William J. Clinton
press@owjc.org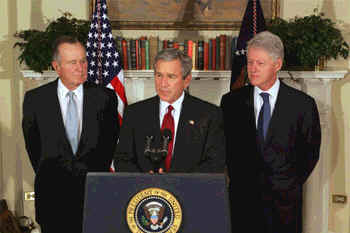 Annan selects Clinton for tsunami effort
By Edith M. Lederer, Associated Press Writer | February 1, 2005
UNITED NATIONS --Secretary-General Kofi Annan has selected former President Clinton to be the U.N. point man for tsunami reconstruction and ensure that the world doesn't forget the needs of those devastated by the Dec. 26 disaster, a U.N. diplomat said Tuesday.
U.N. spokesman Fred Eckhard refused to confirm the appointment but said his office would release a statement shortly. Clinton had no immediate comment.
Annan wants the special envoy to also help resolve rebel conflicts in two of the hardest hit countries, Indonesia and Sri Lanka, Eckhard said.
This could give Clinton a chance to use his political skills to mediate in an uprising of separatist rebels fighting for independence since 1976 in Indonesia's Aceh province as well as the conflict in Sri Lanka where Tamil Tiger rebels have been fighting for a separate homeland since 1983.
Soon after the disaster, President Bush named Clinton and his father, former President George H.W. Bush, to head a nationwide private fund-raising effort to help countries devastated by the tsunamis across the Indian Ocean to Africa. The disaster killed more than 157,000 people and displaced millions in 11 countries.
The U.N. diplomat, speaking on condition of anonymity, said the appointment of Clinton as Annan's top envoy for the rehabilitation of tsunami-devastated countries would expand on the former president's current efforts to raise money in the United States.
The two ex-presidents have been traveling throughout the country raising funds and Bush said last week they hope to go to the tsunami-ravaged Indian Ocean region to illustrate the need for continued donations from Americans. He didn't say when.
A celebrity tennis match Monday night featuring Andy Roddick, Tommy Haas, John McEnroe, Chris Evert and Jim Courier helped raise more than $518,000 for the Bush-Clinton Fund for Tsunami Relief.
In addition to the fund, Clinton launched a $45 million appeal with the U.N. children's agency to provide clean water and sanitation.
Clinton has praised the outpouring of support, most recently at the World Economic Forum in Davos, Switzerland, which ended on Sunday.
###
Posted February 3, 2005