South Asia Human Rights Film Festival

Celebrate a culture of human rights in South Asia!

Breakthrough, the Asia Society, & Syracuse University present

The 3rd Annual South Asia Human Rights Film Festival

April 7-9, 2005
Asia Society, 725 Park Avenue at 70th Street, New York City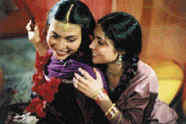 This three-day film and video festival featuring dynamic full-length films and documentaries by well-known South Asian directors and independent filmmakers. The films showcase contemporary human rights issues addressing HIV/AIDS, women's rights, sexuality, peace and conflict. Acclaimed film directors Sabiha Sumar, Rituparno Ghosh, Zia Mian and Aminul Islam, along with leading human rights activists, will lead post-screening discussions.

For tickets, call (212) 517 ASIA or email boxoffice@asiasociety.org
http://www.asiasociety.org/events/calendar.pl?rm=detail&eventid=15084&date=4%2F5%2F05&filter_region=3&filter_category=2&keywords=
--------------------------


Thursday, April 7, 6:30 p.m.

Phir Milenge (We'll Meet Again) (Revathy Menon/2004/160 mins./35mm/India)
The first Bollywood film to spread HIV/AIDS awareness tells the story of a successful young woman who loses her job due to her HIV status.
Friday, April 8, 6:30 p.m.

Khamosh Pani (Silent Waters) (Sabiha Sumar/2003/95 mins./video/Pakistan)
Set against the social turmoil of Pakistan in 1979, this film tells the story of a Muslim widow as she comes to terms with her haunted past. Director Sumar joins the discussion.
Saturday, April 9, 12:00 - 2:15 p.m. Documentaries: Beyond Conflict
Search for Freedom (Munizae Jahangir/2003/54 mins./video/Pakistan) Through a feminist lens, this documentary explores the lives of four path-breaking Afghan women based in Pakistan, who were affected by the political and
social turmoil in Afghanistan from the 1920s to the present.
Crossing the Lines: Kashmir, Pakistan, India (Pervez Hoodboy and Zia Mian/2004/47 mins./video/Pakistan) This film, a critical balanced look at the recurring violence in Kashmir, challenges viewers to look at the situation with new eyes. Made possible with generous support from Irfan Kathwari Foundation, Inc.

Saturday, April 9, 3:00 - 5:15 p.m. Documentaries: Resisting Boundaries

Love for a Longer Life (Dhurba Basnet/2002/27 mins./video/Nepal) Courageous stories of individuals, leading positives lives, confront the HIV/AIDS pandemic in Nepal.
Many People, Many Desires (T. Jayashree /2004/46 mins./video/India) Cutting across class, gender, language and caste, this film explores the identity issues and status of sexual minorities in India.

Facing the Future (Aminul Islam/2002/26 mins./video/Bangladesh) As violent acid attacks against women in Bangladesh increase, civil society agitates for stricter punishment for perpetrators and better care for victims. Director Islam joins the discussion.
Saturday, April 9, 6:00 p.m.

Chokher Bali (A Passion Play) (Rituparno Ghosh /2003/167 mins./35 mm/India) This film highlights the plight of widows in Bengal in the early 1900s, a time of rising unrest. Director Ghosh joins the discussion.
------

$5 Students w/ ID?? $7 Member/NGO $10 Nonmember Advance registration or ticket purchase is highly recommended. A credit card is required to hold a reservation. Please call the Box Office at 212-517-ASIA, or send complete information by fax at 212-517- 8315, or email: boxoffice@asiasociety.org
www.breakthrough.tv

###
Posted April 5, 2005