The Puzzles in President Premadasa's Assassination Revisited
by Sachi Sri Kantha, April 30, 2008
That President Premadasa had a prominent standing in Sri Lanka from 1960 to 1993, as a practitioner of street-smart politics and a stern master in the games of double cross and scams is a fact...
I pondered that President Premadasa's assassination should have be linked to the assassination of his then bete noire Lalith Athulathmudali, that preceded by 8 days. Of course, that was the common sense, karma-believer view of the average Joe/Jane in Sri Lanka in 1993...
Readers should be aware that these were the early reports filed by the correspondents, under chaotic conditions, though they do not fail to attest to the facts that (1) the second executive Sri Lankan president had an unsavory persona, (2) the murder charge by the Sri Lankan police against the LTTE had holes, and (3) a segment of Sinhalese in some sections of Colombo and in southern Sri Lanka even rejoiced and celebrated the death of President Premadasa...
"It looked to me then, and even today, that there was no great desire or the part of those in authority to probe the matter further. It was good enough that the LTTE had done it."
Rigor Challenge in Suicide Bomber Studies
The 'Suicide Bomber Studies' industry has thrived for the past two decades, largely due to the publicity-seeking and fund-seeking zeal of full-time academics, quasi-academics and pseudo-academics. Though these academics have been successful in projecting themselves as 'know-all' seers who can predict the trends of suicide bombing, they have hardly focused on the hurdles that puncture the rigor of released details in the mass media about suicide bombing. Here is a list of such hurdles that I have compiled.
(1) Accidental/intentional destruction of real evidence of the crime.

(2) Planting of 'purported evidence' for the crime.

(3) Identity theft of the 'purported assassin'.

(4) Immediate finger-pointing to the 'usual suspects' by the servile mass media.

(5) Betrayal of trust and lack of interest by the victim's inner circle, one of whom ascends to power after the assassination.

(6) Incompetence of the designated official investigators.

(7) The 'Protecting One's Rear End' (PORE) instinct of Poo-Bahs who are associated with the power-holding victim.
The assassination of Sri Lanka's second executive President, Ranasinghe Premadasa (born 1924) on May 1, 1993 serves as a tell-tale example that illustrates all the above-listed hurdles. As such, it deserves a revisit for a reality check, especially in view of the fact that the immediately net-accessible wikipedia entries on Sinhalese politicians (contributed by image boosters of questionable origin) suffer from abysmally low 'signal to noise' ratio values.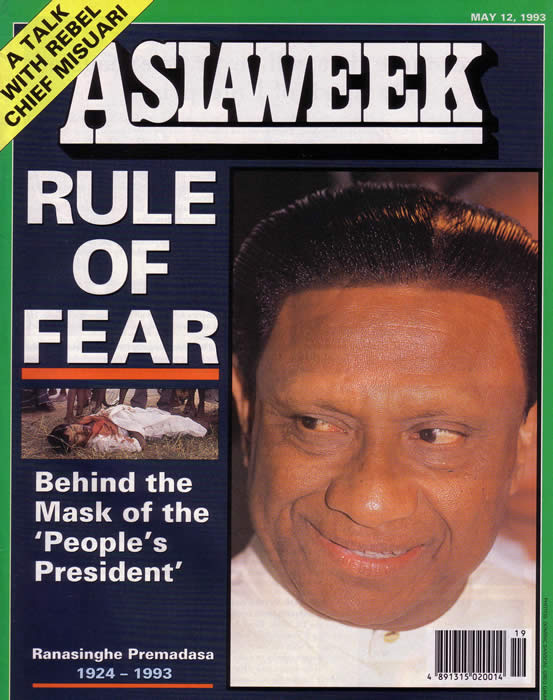 In the past 15 years, the Premadasa assassination has been linked with that of Indian prime minister Rajiv Gandhi (1944-1991), and both together termed as LTTE crimes against two 'world leaders' in the mass media by prominent anti-LTTE scribes like Rohan Gunaratna ['The LTTE and suicide terrorism', Frontline magazine, Feb.5-18, 2000], Dayan Jayatilleka and N. Ram. That President Premadasa had a prominent standing in Sri Lanka from 1960 to 1993, as a practitioner of street-smart politics and a stern master in the games of double cross and scams is a fact. But to depict him as a 'world leader' is a kind of hyperbole.
I contributed two items on President Premadasa's assassination to the Tamil Nation (print edition), using my pen name C.P.Goliard. With reason, in the first note, I used some details of Shakespeare's 'Julius Caesar' play as my main peg to mark the assassination. In a sequel mini-commentary, I pondered that President Premadasa's assassination should have be linked to the assassination of his then bete noire Lalith Athulathmudali, that preceded by 8 days. Of course, that was the common sense, karma-believer view of the average Joe/Jane in Sri Lanka in 1993. Here I reproduce those two items.
The Fall of a Czar
[C.P.Goliard; Tamil Nation, May 1993, p.4]
The word czar is a shortened version of Caesar, the Roman emperor. Caesar's life is currently remembered by many through the 1599 play of Shakespeare. And the eulogy to his fallen friend Caesar, by Marcus Antonius (Mark Antony) beginning with 'Friends, Romans, Countrymen, lend me your ears', is one of the most quoted lines of Shakespeare.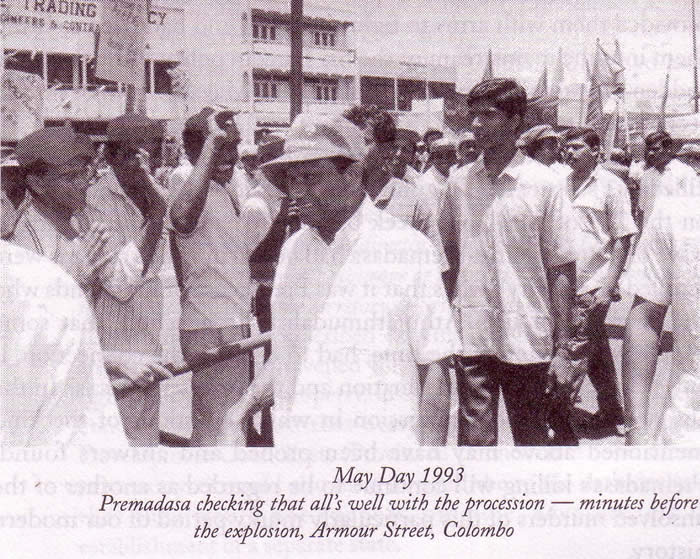 In this column, I wish to reminisce on Mark Antony's mob-manipulating oration and the lucid rendition of Brutus's reasoning for the assassination of Caesar. Since I'm not a Shakespearean scholar, I will quote the analysis presented by John Wilders, one of BBC's literary consultant (The BBC TV Shakespeare Series, Mayflower Books, 1979), on the eulogy of Mark Antony.
'Throughout [the eulogy] Antony claims not to be using the methods he actually practices; he claims not to praise Caesar but then proceeds to do so; he claims to applaud Brutus for his honourable nature while actually casting doubt on it; he claims not to disprove Brutus's argument yet repeatedly refutes it; he claims to be fearful of rebellion while actually inciting it; he refuses to read Caesar's will, but reveals its contents, ostensibly at the request of the people but in fact to suit his own purposes; he seems to be overcome with grief but displays it calculatedly. Hence, when the crowd are roused to mutiny, they believe they have made the decision for themselves…'
John Wilders continue, 'The people have a choice between believing Brutus's account of Caesar as a tyrant and Antony's portrayal of him as generous and compassionate. They choose the latter version not because it is necessarily more reliable but because it is more movingly conveyed…'
Since Antony's eulogy had been presented by Shakespeare as manipulating the mood of the crowd, one needs to relish the funeral oration of Brutus, as presented by the Bard. John Wilders observed that, 'Brutus's speech, in prose, is sober, lucid and has the balanced sentence structure typical of a logical, thoughtful scholar'. This is what the master playwright placed in the mouth of Brutus, explaining why he consented for eliminating Caesar.
Brutus: 'Romans, countrymen, and lovers! Hear me for my cause, and be silent, that you may hear. Believe me for mine honour, and have respect to mine honour, that you may believe. Censure me in your wisdom, and awake your senses, that you may the better judge. If there be any in this assembly, any dear friend of Caesar's to him I say that Brutus's love to Caesar was no less than his. If then that friend demand why Brutus rose against Caesar, this is my answer. Not that I lov'd Caesar less, but that I lov'd Rome more. Had you rather Caesar were living, and die all slaves, than that Caesar were dead, to live all free men? As Caesar lov'd me, I weep for him; as he was fortunate, I rejoice at it; as he was valiant, I honour him; but as he was ambitious, I slew him. There is tears for his love; joy for his fortune; honour for his valour; and death for his ambition. Who is here so base that would be a bondman? If any, speak; for him have I offended. Who is here so rude that would not be a Roman? If any, speak; for him have I offended. Who is here so vile that will not love his country? If any, speak; for him have I offended, I pause for a reply.'
All: 'None, Brutus, none'.
Brutus: 'Then none have I offended. I have done no more to Caesar than you shall do to Brutus. The question of his death is enroll'd in the capitol; his glory not extenuated, wherein he was worthy; nor his offences enforc'd, for which he suffered death.'
[Enter Mark Antony and others with Caesar's body.]
Here comes his body, mourn'd by Mark Antony, who, though he had no hand in his death, shall receive the benefit of his dying, a place in the commonwealth, as which of you shall not? With this I depart, that, as I slew by best lover for the good of Rome, I have the same dagger for myself, when it shall please my country to need my death.'
Well, Julius Caesar was not the last politician who ascended the throne with good intentions and turned into a dictator. Almost every country (including Sri Lanka), during the last two millennia, had seen the rise of politicians who modeled themselves as a Caesar and suffered the fate of the Roman emperor. And the late President Ranasinghe Premadasa is the latest example.
Apart from being one of the 20th century protégés of Caesar, the man from Kehelwatte, also mastered the art of Mark Antony during his four decades long political career. He postured for peace but practised intimidation of all kinds. And his downfall could be attributed to this flaw. That Tamil proverb, 'Thinai vithaithavan thinai aruppaan; Vinai vithaithavan vinai aruppaan' said it all. The one who sows millet will reap millet; the one who sows misery will reap misery.
*****
Mossad's Signature?
[C.P.Goliard; Tamil Nation, June 1993, p.4]
Chinese scholar Lu Sin quipped a long time ago that, 'One who knows too many subjects is liable to be shallow; one who knows only one subject is apt to be perverse.' I wonder whether Mervyn de Silva, the editor of the Lanka Guardian, should be classified as shallow or perverse. He wrote in his May 15th journal that, "While the Athulathmudali killing has prompted many theories, almost all 'politically' coloured, there is not much speculation about the Premadasa assassination. All the information in the press, particularly the 'deep penetration' of the Premadasa household, which took at least two years, and the final suicidal deed, showed the unmistakable signature of the LTTE, the world's most highly motivated separatist rebel organization."
Goliard, like many common Sinhalese and Tamils, suspects that the assassinations of Premadasa and Athulathmudali are inter-linked. When Athulathmudali, a pro-Israeli power broker, challenged Premadasa two years ago with an impeachment motion in the parliament, Premadasa openly accused Mossad, the intelligence agency of Israel, of trying to topple him. In his address to the Sri Lankan parliament, Premadasa said,
"…I had Israeli interests section removed. In such a context there is nothing to be surprised about the Mossad rising up against me. Please remember that there are among us traitors who have gone to Isaeli universities and lectured there and earned dirty money…". When Athulathmudali was assassinated last April, the members of his party immediately accused Premadasa for ordering the killing. The murder of Premadasa could have been a return hit planned and executed by the Mossad which had lost its major card in Sri Lankan politics.
The Mossad is capable of such 'neutralising operations' had been highlighted in Victor Ostrovsky's 1990 best seller 'By Way of Deception', in which its Sri Lankan connections were also brought to limelight. The penetration of Premadasa's private residence by the planted assassin had occurred after Athulathmudali's split from the UNP. The surfacing of embarrassing evidence that the assassin of the President 'had worked as a deep undercover agent hosting parties and ensuring a free flow of liquor and sexual entertainment for Premadasa's valet-cum-masseur E.M.P. Mohideen' suggest the signature of Mossad's activity. That Mohideen is a Muslim is also not without some significance in this context. Victor Ostrovsky had described in his book how the Mossad recruits agents for its nefarious activities; "There are three major 'hooks' for recruiting people – money, emotion and sex". The roles money and sex had played in compromising Premadasa's valet Mohideen to gain access to the President clearly shows the timing of Premadasa's assassination. Why was he killed just after a week following Athulathmudali's assassination? The extent of Athulathmudali's links with Mossad, when they come out of the closet, will provide more clues to Premadasa's murder.
*****
Coverage of the Assassination in Weekly News Magazines
I provide below the then published details that appeared in the Economist, Time, Newsweek, Asiaweek, and Far Eastern Economic Review immediately after the assassination.
1. A hole in Sri Lanka. Economist, May 8, 1993, p. 41.
2. Jefferson Penberthy: Death Strikes a Steely President. Time, May 10, 1993, p. 54.
3. Suicide Bombers Strike Again. Newsweek, May 10, 1993, p. 27.
4. Rule by the Sword: An Assassination brings to a close an era of political violence. Asiaweek, May 12, 1993, pp. 21-24.
5. Hamish McDonald: Mayhem on May Day. President falls victim to politics of violence. Far Eastern Economic Review, May 13, 1993, pp. 18-19.
6. Hamish McDonald: Feudal Outsider – Man with humble origins but great ambition. Far Eastern Economic Review, May 13, 1993, p. 20.
Readers should be aware that these were the early reports filed by the correspondents, under chaotic conditions, though they do not fail to attest to the facts that (1) the second executive Sri Lankan president had an unsavory persona, (2) the murder charge by the Sri Lankan police against the LTTE had holes, and (3) a segment of Sinhalese in some sections of Colombo and in southern Sri Lanka even rejoiced and celebrated the death of President Premadasa.
A Hole in Sri Lanka
[Economist, May 8, 1993, p. 41]
Weak countries need strong leaders to hold them together, and strong leaders leave large holes when they leave their jobs. So Sri Lanka, after the assassination of its president, Ranasinghe Premadasa, on May 1st, is a weak country with a big empty space in the middle of its government. This is a dangerous position to be in.
For a city that has seen plenty of violence, Colombo was curiously calm after Mr Premadasa's death. That may be because people have got so used to killings: after the murder of Lalith Athulathmudali, one of Sri Lanka's two main opposition leaders, on April 23rd, the assassination of president who some suspected of involvement in his rival's killing was no great surprise. And there is, as yet, nobody clearly to blame. The police have indicated that they believe the Tamil Tigers were responsible for the bomb, but people are skeptical: Mr Premadasa was the closest thing the Tigers had to a political friend. Still, Tamil shops in some areas closed. Memories of the 1983 riots, when thousands of Tamils were butchered in Colombo, are lively.
Mr Premadasa's five years in office have left Sri Lanka with a taste of the best and the worst that it can do. The south and west of the island have prospered. Liberal economic policies, including deregulation of trade, financial services, and privatization, have created a flourishing zone of small industries – clothes-making, shoes, toys – of just the sort that a poor country needs. In the past two years, tourism, the country's single biggest earner, has revived.
The east and the north, where most of the Tamils live, are a different country. Violence has blighted the economy. Five years ago the northern peninsula, Jaffna, used to be a cosy place, with neatly kept houses and well-maintained streets. Now the Tamil Tigers run a totalitarian state, blockaded by troops, without electricity, running water or sewers, and often short of food.
In the past decade of war, terrorists and soldiers have killed tens of thousands of civilians. About 500,000 Sri Lankans, out of a population of 17m, are reckoned to have left the country because of the war. But over time Mr Premadasa's approach to the problem changed: foreign pressure and the failure of the military solution to terrorism combined to persuade him that the army needed to be discouraged from indiscriminate killing. According to human-rights workers, the number of people disappearing has dropped from 6,000 a year in 1989 to around 60 last year.
Mr Premadasa tried to close the gap between Sinhalese and Tamils. He reversed some of the laws on language and education which discriminated against Tamils, and took to visiting some of the Tamils' Hindu temples, even attempting the odd public statement in Tamil. He set up a select committee with the job of trying to device a political settlement to the problem of Tamil separatism; but it got nowhere.
The government has been quick to say that it plans to continue the economic policies that have pleased businessmen and kept the country relatively well off. But Mr Premadasa's approach to the Tamil question is less likely to be followed. His belief that compromise might be possible and necessary had few followers in the ruling United National Party (UNP). It did not bother Mr Premadasa that he was disliked by most politicians, including many in his own party. He paid little attention to his cabinet, taking most decisions by himself and keeping ministers in ignorance. Most colleagues of any stature were forced out of the party or left of their own accord – like Lalith Athulathmudali, once a UNP national security minister, who tried to impeach Mr Premadasa.
As a result, the UNP, which has run Sri Lanka since 1977, is weak and demoralized. Mr Premadasa had groomed no successor. Dingiri Banda Wijetunga, who has been appointed acting president and will probably get the job permanently because the UNP has enough votes in parliament to secure it for him, is an unassuming 71 year-old compromise candidate. (It may, however, be worth remembering that Indira Gandhi became prime minister of India as a compromise candidate who others thought they could manipulate.)
Sri Lankans, who have lost two of their three main political leaders within eight days, will be asked their opinion of the remaining politicians at provincial elections on May 17th. A presidential election is due next year, and parliamentary ones in 1995. The persistence of elections is perhaps odd. Democracy might be expected to collapse under such pressure. But Sri Lanka, which held its first general election with universal suffrage under the British in 1931, has stuck doggedly to the system.
Perhaps it is because Sri Lanka's politicians have, in the past, been people of some stature, and the army used to be kept small. But the army has more than quadrupled in size during the war, from 26,000 in 1982 to 112,000 in 1992, and at least within the UNP, the stature of the politician or party will grow to fill the hole that Mr Premadasa has left. But if the chaos continues, the attitude of the army will be worth watching.
*****
Death Strikes a Steely President
[Jefferson Penberthy; Time, May 10, 1993, p. 54]
In the conflict over Sri Lanka, the suicide bomber has become a grisly artisan of terror. Knowing that, President Ranasinghe Premadasa had many bodyguards, as always, at a May Day march last Saturday in a northern neighborhood of Colombo, the capital. But they were of no avail in preventing a human bomb from penetrating the security cordon. A huge explosion followed. So chaotic and grim was the scene, with parts of bodies blown all over the Armours Street Junction, that for a time no one was sure whether Premadasa, 68, was among them. First reports had him whisked away to home or to a hospital. Then, hours later, the dark truth: 'The President's entire staff are dead. He is no more,' announced a shaken presidential aide, Evans Cooray, whose own life had been saved when he moved away from the noisy procession to take a mobile telephone call. The impact of the blast was so large that it had taken more than two hours for the President's personal physician to identify what was left of Premadasa's body.
At least 17 people were killed, and scores were injured. 'The place was a shambles. There were arms, limbs and human flesh all over the place,' said Sydney Chandrasena, a television producer at the scene. Exactly what had happened was not immediately clear. Some eyewitnesses said a man on a bicycle carrying a portable radio rode up to Premadasa and his staff as the President prepared to greet the march. Others reported that a motorcyclist with explosives strapped to his body crashed into the group.
Colombo police were sure of one thing, however: the killing was the work of the Liberation Tigers of Tamil Eelam, the Tamil guerrilla army that has fought a savage 10 year separatist war in the north-eastern provinces of the island. The modus operandi was that of a fanatic LTTE suicide squad known as the Black Tigers. In 1991 a woman LTTE suicide bomber, Dhanu, killed former Indian Prime Minister Rajiv Gandhi at an election rally near Madras, out of fear that he could again involve India in the Sri Lankan war. On the teardrop island itself, suicide bombings have become frequent. Among many: in 1991 a car bomb wrecked the country's joint operations command headquarters in Colombo, killing 20, and last November a motorcyclist's bomb killed the Sri Lankan navy chief, Admiral Clarence Fernando, near the military headquarters. As usual, the LTTE quickly denied involvement in last week's killing. 'The government blames the LTTE for everything,' said Paris-based spokesman Lawrence Thilakar. 'But Premadasa had enemies everywhere.'
Hours after Premadasa's death, Dingiri Banda Wijetunga, 71, the ruling United National Party's unassuming Prime Minister, was sworn in as acting President, and a 16-hour curfew was clamped on the entire island to curb further mayhem. Public reactions to Premadasa's death were mixed. Some celebrated the news by setting off fireworks in parts of Colombo and particularly in the south of the country, where government death squads in 1989 had mercilessly put down a rebellion led by the People's Liberation Front (JVP), a Sinhalese extremist group opposed to India's involvement in the nation's affairs.
The President's killing came just eight days after the assassination of his former party rival and opponent, Lalith Athulathmudali, a popular Oxford-educated lawyer who since 1991 had led the breakaway Democratic United National Front. Athulathmudali, 57, was shot five times in the stomach and chest by an unidentified gunman at a local election rally at Kirulapona on the eastern outskirts of Colombo. While the government blamed his death also on the Tigers, DUNF officials had accused Premadasa government of involvement, leading to political unrest in the capital last week.
Premadasa, the self-made son of a lower-caste family ruled Sri Lanka with an iron fist after he won the presidency in 1988. Though looked down upon by the country's traditional upper caste rulers, his earthy 'son of the soil' manner won him wide popular support. But after the aristocratic rule of his predecessor, Junius Jayewardene, he was also seen by many as overbearing. In 1989 Premadasa made a tentative peace with the LTTE to obtain withdrawal by India of its 70,000 troops on the island. In June 1990, however, a bare three months after the Indian forces pulled out, the Tigers abandoned their truce and the fighting resumed, imposing a crippling burden on the Sri Lankan economy.
Premadasa's death will be a major setback to government forces still struggling against the Tigers for control of the northern Jaffna Peninsula. Though the rebel forces have been cordoned off in their stronghold, for the past six months the conflict has been stalemated and the fighting sporadic. Neither side has had the strength to force the issue. There is now a vacuum at the top in the country's main political parties, both government and opposition. With Premadasa gone, fears abound that Sri Lanka has lost the leadership capacity to bring an end to its spiral of violence. [Reported by Kendall Hopman/Colombo, and Anita Pratap/New Delhi]
*****
The Suicide Bombers Strike Again
[Newsweek, May 10, 1993, p. 27]
What began as a festive May Day parade ended with blood on the streets of Colombo last weekend. A suicide bomber assassinated Sri Lanka's President Ranasinghe Premadasa, 68, as he led the celebration. At least 10 others died. 'It was like a battlefield,' said Evans Cooray, a presidential aide who survived the blast.
The government blamed the separatist Liberation Tigers of Tamil Eelam (LTTE) for the attack. Though the group denied responsibility, it has waged a decade long civil war in the island's northern and eastern districts that has cost tens of thousands of lives and taken a heavy toll on Sri Lanka's economy. Two years ago, Parliament appointed a committee to seek a settlement. Suspected Tiger suicide bombers killed the navy commander last year and the defense minister in March of 1991.
Premadasa's death also leaves a political vacuum in Colombo. Prime Minister Dingiri Banda Wijetunga has become acting President pending an election for a new president by the United National Party-dominated Parliament. But Premadasa has no clear successor. He held the senior cabinet posts himself and had an undisputed hold over the UNP after routing a breakaway group in 1991. One of the dissidents, Lalith Athulathmudali, was shot dead last month. The government blamed the Tigers, but many of its opponents accuse the UNP. Premadasa's assassination may have been in retaliation for Athulathmudali's. Wherever the truth lies, more violence seems inevitable.
*****
Rule by the Sword: An Assassination Brings to a Close an Era of Political Violence
[Anonymous; Asiaweek, May 12, 1993, pp. 21-24]
On the day he died, 68 year-old President Ranasinghe Premadasa woke up at 4 am, as he had through most of his 40-year political career. He did his yoga, and at 5:15 he read the newspapers. At 7:30 he called his public relations officer and asked him to collect the 'facts and figures' that reflected his record since he became president in 1988. He would use it to address the ruling United National Party's annual rally on the Galle Face Green, on Colombo's ocean front. 'I want to tell the people how I guided the nation,' he said.
At 11:30 Premadasa, meticulous as ever, went to inspect the procession of party faithful he would lead to the green from Colombo's Sugadadasa Sports Stadium. Life-size posters of the president lined the route of the march. Security was light, despite an army announcement that a Tamil Tiger hit squad had slipped into the capital. At Armour Street the president jumped out of his Range Rover to ask his supporters to line up to begin the procession. As he stood in a green UNP baseball cap waving his arms, a young man walked towards him pushing a bike. Premadasa's long-time valet Mohideen recognized him as 'Babu', a Tamil who worked in Mohideen's grocery store near the president's home. The valet grabbed the handlebars and stopped him five metres short of the president.
The explosion could be heard two kilometers away at the house where Premadasa was born, grew up and still lived. The bomb, wired around the assassin's waist, was about the size of a cassette recorder. It was powerful enough to instantly kill the president and sixteen others – most of his security contingent. Of the 38 people wounded, seven more would die. Premadasa was identified only by his wristwatch. 'My clothes were splattered with blood and bits of flesh,' a UNP supporter told the coroner, who was by now familiar with the effects of terrorist bombs.
In less than two weeks, assassins had struck down both the country's president and the only other man who could challenge him, opposition leader Lalith Athulathmudali. On April 23 a lone gunman had pumped six shots into the former defence minsiter's back as he addressed a campaign rally for May 17 provincial council polls. Shortly after Premadasa was killed, Prime Minister Digiri Banda Wijetunge was sworn in as acting president.
Under the 1978 Constitution drawn up by Premadasa's predecessor J.R. Jayewardene, the legislature must elect a president from Parliament within a month. As of May 5 the 71 year-old mild-mannered Wijetunge was the only candidate. That the opposition chose not to contest showed the Parliament's resolve to restore calm. Another incentive: to head off a violent power struggle within the ruling party.
Police were quick to blame the Tamil Tiger separatists for both assassinations. But many people suspected the president's men killed Athulathmudali, and those same people were ready to believe Athulathmudali's followers murdered the president in revenge. 'We have seen these very strong leaders acting like dictators and doing anything they want to their opponents,' says Asoka Perera. 'Wijetunge will be different and will bring some decency back.'
Despite the political instability, an eerie calm settled over the island. An era was closing. Premadasa presided over one of the most violent periods in the country's 2,500-year history. In him was the key to understanding everything that was good and evil about contemporary Sri Lanka. Anyone who looked could find equal measures of both in the man. But in the end, it was the dark side that won out. 'The whole nation was angry,' says a longtime political analyst. 'We needed someone to focus our anger and hatred on. Premadasa had to die.'
Poet, author and visionary, Premadasa believed in all things mystical. A vain man, his black hair dye would often drip down his face in the hot sun. A champion of the free market, he thought he could provide everyone with a home, an education and a chance to rise, as he did, above the caste system that dominates Sri Lanka. Paranoid and ruthless, he would stop at nothing to achieve his dream. 'He wanted to see an economically strong Sri Lanka,' says his old friend Minister of Justice Shahul Hameed, 'where the common man was given a share of the cake.'
For many, the dream turned to a nightmare. When his death was announced, hundreds across the country lit firecrackers in celebration. Still, some wept. Thousands of mourners filed past his casket at his house on Sucharita Road. It was fitting that his body was taken there first rather than to the elegant Presidential House, where his higher-baste wife, Hema, lived without him.
Until the late in his career he tried to suppress any mention of his Puda caste – designated for village laundrymen – which is near the bottom of some 60 Sinhalese castes. When he first became president, journalists were warned that anyone who named his caste would be 'out of the country in 24 hours.' He liked to compare himself to the great Dutugemunu, the ancient Sinhalese ruler who killed the Tamil king Elara. But only at his house in Kehelwatte, one of the Colombo's oldest and poorest neighbourhoods, could he be himself. 'His heart was [there],' says a long-time friend. 'These were his people.'
In Premadasa's youth the neighbourhood was a mix of Muslim and Tamil traders and a few Sinhalese working people. Though still poor today, it is well-lit and flush with government housing. School attendance is high and crime is low. Premadasa expanded his father's small house and lived there alone with his servants and valet. His door was always open to visitors, the house a monument to himself even while he was alive. In one room were glass cases of memorabilia recording his triumphs. In a corner was a life-size model of his father and mother standing next to a rickshaw driver, with a likeness of young Premadasa in the seat. The people of Kehelwatte never deserted him, and it was they who were first in line to file past his casket displayed in a renovated rickshaw shed outside the house.
Within the sleazy lanes of sheds and shacks of his youth, double-cross was an art and scams a way of life. He learned both, and with brilliant organising skills tried to use them for good. He learned to speak Tamil fluently, Sri Lanka's only leader to ever do so. At 15 he started the Sucharita Movement, a self-help program to educate the slum's children. His father, a rickshaw owner turned businessman, saved enough to send him to an uptown Roman Catholic school, St. Joseph's College.
After he graduated he caught the eye of strongman labour leader A.E. Goonesinghe. He was one of the first politicians to use hit squads. Under his tutelage, Premadasa joined the Ceylon Labour Party and won a seat as municipal councilor. The Morris Minor sedan given to him at the time by his supporters still sits lovingly restored in a glass case at his house. In 1956 he joined the United National Party and helped President J.R. Jayewardene reorganise the party after it was trounced in the 1950s. Together they used communalism to win back support. Premadasa, no racist but a gifted orator, later regretted his fiery anti-Tamil speeches.
Early in his career Premadasa was befriended by several powerful businessmen. One was S. Rajendram, the Tamil founder of the Maharaja Organisation, today one of the country's richest groups. Another was Sinhalese land developer A.K. Dharmadasa. Both prospered under the UNP's economic liberalization program. More recently Dharmadasa and Maharaja's son Killi became known in business circles as 'the forces'. They had access to Premadasa's close confidant, Secretary of Finance R. Paskaralingam, a Tamil who was considered the second most powerful man in the country.
It was Paskaralingam who engineered Premadasa's economic liberalization program. He converted the president into a devoted free-market reformer. Their plan was to turn the country into South Asia's 'Singapore'. They chose to follow the well-tested East Asian model of export-led expansion with high growth rates and high inflation.
Although Jayewardene had begun to break the ruling class's hold on capital, Premadasa took it further than anyone thought possible. He flung open the stock market to foreign investors, slashed taxes and sold off 42 state corporations. The market turnover soared from $50,000 a day in late 1989 to roughly half a million this year, and GDP growth leapt to almost 5%.
For Premadasa, it was a chance to redistribute wealth through trickle-down economics. A sure way for a businessman to please the president was to contribute to his 'Janasaviya' welfare program, which gave the poor cheap access to credit and start-up funds for business. But in the economic free-for-all, capital went in every direction – including to his political opponents – and Premadasa began to back off. 'The wrong people started to get rich,' says a Colombo banker.
As the rich got richer, the poor Premadasa had tried to help kept getting poorer. With two insurrections – the Tamils in the north and the Sinhalese Marxist JVPs in the south – and massive public spending, inflation ran at 20% throughout his presidency. The rural people watched contractors come from the city to make millions on construction projects. The gap between the rich and the poor, one of the world's largest before Premadasa became president, grew wider. 'He tried to reach the invisible people in the country,' says Hameed. 'But there wasn't enough time. There can be a debate whether the medium he applied was the best.'
When Premadasa became president in December 1988 he inherited a nightmare. Some 50,000 Indian troops occupied the northern third of the country, allowed in by Jayewardene in July 1987 to enforce the Indo-Lankan accord. In the south, a growing number of government hit squads roamed the streets. There JVP extremists had begun to rearm themselves and stage daylight raids on military camps. They had launched a full-scale revolution in April 1970 [sic: 1971], and were on their way to a second one. They gained massive support when their prediction came true that the 'fifth column' of India would invade the island.
As a presidential candidate, Premadasa had pledged he would demand that the Indians leave the day he was elected. He did, but Rajiv Gandhi refused, and the JVP gained more support among the rural poor. Premadasa offered the JVP peace and backed it up by granting amnesty to 1,800 suspects. He also lifted the harsh Emergency Laws. That only helped the extremists, and by July 1989 they had killed some 3,000 civilians and hundreds of UNP supporters. Their campaign of terror, backed by nationwide strikes, brought the country to a standstill.
Premadasa reimposed the emergency laws. Security forces could shoot suspected JVP members and sympathizers on sight, and dispose of their bodies without an inquest. In the first week of July alone, police tortured and killed some 5,000 people and left their corpses in towns throughout the south. UNP politicians used the emergency rule to take out political opponents, while Premadasa turned a blind eye. Some say he gave the orders.
One such case was the murder of journalist Richard de Zoysa. Police suspected de Zoysa had friends among the JVP students at Colombo University, the movement's urban base. On the night of Feb.18, 1990, Ronnie Gunasinghe, a senior superintendent for police and a confidant of Premadasa, was having drinks with Deputy Defence Minister Ranjan Wijeratne. At one point, says a senior police officer, Wijeratne called Premadasa and told him of a plan to pick up the journalist. The next day de Zoysa's tortured body was found floating off a beach south of Colombo. Wijeratne was killed in a car bomb explosion in March 1991. Gunasinghe died with Premadasa in the explosion last week.
By February 1990 the carnage was over and Premadasa had won the war in the south. But Indian troops were still entrenched in the north, bogged down in a fight with Tamil Tigers. Premadasa, however, had secured a ceasefire with the Tigers. According to Presidential adviser Dayan Jayatilaka, Premadasa ordered the Sri Lankan Air Force to evacuate to safety the wife and daughter of the Tiger leader Velupillai Prabhakaran from their jungle hideout. He then ordered the military to deliver heavy arms to the Tigers to use against the Indians and rival Tamil groups.
In thirteen months of talks in Colombo, Premadasa offered the guerillas more than any other Sinhalese leader had. The Tigers used the time to regroup, while the Sri Lankan army was confined to barracks. In June 1990, four months after the Indian troops withdrew, the Tigers accused the president of 'saying one thing and doing another.' War broke out again, and Premadasa was blamed. 'Every time one of my men gets his leg blown off,' said an army captain in 1990, 'I think of our president.'
Premadasa's biggest political blow came from one of his cabinet ministers. In August 1991 Higher Education Minister Athulathmudali convinced some 47 ruling party MPs to sign an impeachment petition against the president. Athulathmudali had garnered more votes than anyone else in the 1989 general elections, and many had thought he would be selected prime minister. The group accused the president of numerous abuses of power, including wire-tapping, harassment of opponents and arming the guerillas. 'The president was in shock,' says a loyal minister.
Premadasa broke the back of the impeachment, allegedly by bribing MPs. Afterwards his paranoia increased. Athulathmudali and another minister, Gamini Dissanayake, were forced out of the ruling party and formed the Democratic United National Front. Within months it had more than 500,000 members. They held rally after rally, denouncing the president to crowds of 50,000 or more. They were expected to win handsomely in the seven provincial council elections May 17.
The councils, a part of the Indo-Lanka accord, were designed to give autonomous government to the Tamils. But the Northeast Council was abolished after the war with the Tigers broke out again, leaving only those in the south. If Athulathmudali had won the post of chief minister in the Western Provincial Council, he could have had more power in Colombo than the president.
The political rivalry between Premadasa and Athulathmudali led to a media war between the state-owned TV, radio, and newspapers and the opposition-owned press. UNP thugs openly attacked journalists who covered opposition rallies. In August 1992 they stabbed a cartoonist who had lampooned the president. Again, Premadasa was blamed for the violence. Opposition leaders also accused him of ordering the death of Gen. Denzil Kobbekaduwa, who died in a bomb explosion in Jaffna last year along with most of the northern command. Kobbekaduwa had sided with the opposition. When Athulathmudali was shot, many pointed to the president's men.
Who killed Premadasa? Jayatilaka and the police say the Tigers did it. 'He generated hope to the Tamil community,' says the presidential adviser. 'The Tigers had to kill him.' They are clearly the prime suspects. But according to Justice Minister Hameed, 'it is still not clear who was responsible beyond a shadow of a doubt.' By the end, there were a lot of people who hated him enough to kill him.
In his last speech just days before he died, Premadasa pleaded for mercy. 'You can assassinate me,' he said, 'but don't assassinate my character. I am not a murderer. They accuse me, but they have no proof.' People made their own judgements. Said one embittered oppositionist regarding Premadasa's murder: 'We are Buddhists. We believe that you have to suffer the consequences of your crimes, either in this life or another one.' Unfortunately, in Premadasa's case the whole nation would have to pay the price.
*****
Mayhem on May Day: President falls victim to politics of violence
[Hamish McDonald: Far Eastern Economic Review, May 13, 1993, pp. 18-19]
President Ranasinghe Premadasa was in his element, getting down from his luxury four-wheel-drive wagon to mix with a crowd of supporters in a working-class district of Colombo, waving newcomers into a May Day procession that was to culminate in a mass rally on the Galle Face seaside.
But among the new arrivals on Armour Street was a youth who hurtled forward on a bicycle. Stopped by a presidential aide less than two metres from Premadasa, the youth detonated a bomb strapped to his body. The president was killed instantly, and another 24 including the assassin died in the carnage.
That Premadasa, 68, was personally directing traffic on a Colombo street when hit by the bomb showed the style of a highly interventionist leader whose death leaves a power vacuum in Sri Lanka and raises questions about political stability - just as the country appeared to have entered a run of sustained industrial growth.
Without him, Sri Lanka may face a period of drift in policymaking. On the economic side, Premadasa carried out sweeping reforms, privatising much of the moribund public sector, cutting back a huge budget deficit and lining up private investment. At the same time, he balanced this with a populist programme of social engineering to alleviate rural poverty.
International lenders and aid donors think more needs to be done in cutting back the state sector and bringing inflation under control. Yet a weaker, less politically adept leader may not be able to sell such measures to the country as Premadasa did, especially if colleagues are clamouring for election-winning handouts.
Premadasa pursued a policy of dialogue with the country's Tamil minority, especially the Liberation Tigers of Tamil Eelam (LTTE) who have waged a separatist war for more than a decade. While maintaining political contact, he had continued the dual strategy of military pressure on the Tigers. The government thinks the LTTE carried out the assassination. Police claimed that the severed head of the assassin had a fragment of a cyanide capsule embedded in the neck (LTTE fighters routinely carry suicide pills to avoid being taken alive).
If the LTTE link is true – it has been denied by the Tigers – this is even more alarming than Premadasa's death on its own. It would indicate that the LTTE is far more resistant to a negotiated settlement than anyone had suspected. But when news of Premadasa's murder spread on the May Day holiday, the initial public mood seemed more one of resignation and even relief, rather than anger or great surprise. Premadasa was a leader who evoked gratitude for economic achievement but a great deal of hatred and fear for his ruthlessness in quelling challenges from any quarter. In 1989 when Maoist-style Sinhalese rebels of Janatha Vimukti Peramuna (JVP) brought murder and chaos, he had unleashed police and army death squads that killed an estimated 30,000 suspects. Within the ruling United National Party (UNP), Premadasa pushed out all possible contenders for the leadership.
His government had been widely blamed for the assassination eight days earlier of popular opposition leader Lalith Athulathmudali, a former UNP minister who had tried to topple Premadasa in 1991 through an impeachment motion in parliament. When it failed, the rebels were expelled from the UNP and parliament, and formed their own Democratic United National Front (DUNF) to continue the challenge. A gunman killed Athulathmudali on 23 April at a campaign meeting for elections on 17 May to seven of Sri Lanka's nine provincial councils, the first test of his new party's appeal. The authorities also attributed this killing to the LTTE, and produced a body dead of cyanide poisoning to prove it.
Scepticism was widespread, and anti-government violence broke out during Athulathmudali's funeral. Anonymous leaflets sent to foreign embassies alleged that a government minister had hired two professional killers to do the job. Just before Premadasa's death some Sri Lankans had expressed a foreboding of worse things to come, and the campaigning for the provincial elections became intensely bitter, with charges of murder and character assassination traded between the UNP and opposition parties.
After Premadasa's death, many Sri Lankans clearly felt that a kind of justice had been done. 'Premadasa did many good things, but many bad things too,' said a Colombo driver. 'You cannot run a government by killing people.'
Whatever the feelings about Premadasa, analysts see a period of instability now facting Sri Lanka. A prompt decision by the UNP to nominate the late president's cabinet chief, Prime Minister D.B. Wijetunga, 71, to serve out the remaining 20 months of Premadasa's term postpones a struggle in the ruling party. Assuming Wijetunga is endorsed by parliament, Sri Lanka will have a self-effacing former bureaucrat as a leader rather than a strong politician.
Under the constitution adopted when Sri Lanka switched to an executive presidency from a parliamentary system in 1978, the replacement president must be chosen from among members of the 225-seat parliament within one month of the elected president's death in office. The UNP has 124 of the 213 occupied seats, and thus if the party holds together Wijetunga should be chosen over opposition leader Sirima Bandaranaike (77), the former prime minister whose Sri Lanka Freedom Party (SLFP) has only 67 seats.
If Wijetunga is a bland figure, the field of UNP ministers to replace him as prime minister is also unprepossessing. Premadasa had centralized power in his own office and dealt directly with top bureaucrats, leaving many ministers with little actual responsibility. Industries Minister Ranil Wickremasinghe is virtually the only present minister that diplomats here regard as plausible candidate for premier.
The SLFP appears unlikely to be much of a worry to Wijetunga or the UNP in the longer term. The party is beset by squabbles for power between the ailing Bandaranaike, her son Anura and her daughter Chandrika. Nor has it updated the populist statism of its days in power in the 1960s and 1970s, when the economy became moribund and the JVP rebellion took hold among the Sinhalese-educated unemployed.
The more immediate threat will come from the DUNF, since Athulathmudali's death under the leadership of former UNP minister Gamini Dissanayake, also a polished and capable political figure. Having split from the UNP over Premadasa's leadership, the DUNF no longer has any great bar to rapprochement with the UNP and might indeed feel more comfortable in this camp than in its current alliance with the SLFP. 'We impeached the president but we did not impeach the UNP,' Dissanayake said, in answering a question about this.
Technically it would be possible for Dissanayake to get back into the parliament in time for the presidential contest. Among the 213 members are 26 nominated by parties from a 'national list'. An outside candidate could enter parliament by persuading one to step down in his favour. In Dissanayake's case this would have to be one of the 11 SLFP national list MPs, but he himself downplayed the possibility of an early move on the presidency. 'The provincial council elections are a necessary step to create a political base,' he said.
If the DUNF does well in the 17 May elections, which Wijetunga said would not be postponed, the opposition party will be well placed to split and subvert the UNP over the remainder of the current presidential and parliamentary terms.
The institutions created under the 1978 constitution will also come under challenge. Dissanayake said he would like to see the balance of power tipped back from the presidency to parliament, through greater legislative veto and review of presidential policies. 'This Gaullist constitution was the root cause of the evasion of the democratic process,' he said.
*****
Feudal Outsider: Man with humble origins but great ambition
[Hamish McDonald: Far Eastern Economic Review, May 13, 1993, p. 20]
When Sri Lanka emerged from what could be 20 months of stopgap leadership, the choice of its next popularly elected president will measure the depth of the transformation that Ranasinghe Premadasa tried to achieve in a country that is riddled with caste distinction and snobbery.
Although he had been in power for 15 years, first as prime minister and then as president, Ranasinghe Premadasa remained an outsider until he died. He was accepted as a necessity for his economic reforms and suppression of revolution, but ridiculed as an upstart for his social origins. Previous leaders had come from the land-owning goigama caste whose well-off members had quickly got on side with the British colonial rulers, sent their sons to elite British universities, and learnt to play cricket and parliamentary politics.
Ceylon, as it was then called, had no mass-based independence movement like the Indian National Congress. When the British left in 1948, prominent families took over politics and parties formed around them. Although the United National Party (UNP) leaned more to free markets and the Sri Lanka Freedom Party (SLFP) to socialism, the UNP's J.R. Jayewardene and the SLFP's Sirima Bandaranaike both belonged to the same Anglicised elite in Colombo.
Premadasa was Sri Lanka's first leader to come from the lower orders, being from a caste of traditional laundrymen. He had a scanty formal education, and rose in politics through labour unions and municipal governments under the UNP. He succeeded Jayewardene in 1988.
As president, Premadasa's first task was to put down the revolt among the Sinhalese majority by the Janata Vimukti Peramuna (JVP), whose terrorism nearly brought Sri Lanka to a standstill in 1989. He then took over the market-based economic reforms initiated by Jayewardene, but at the same time conspicuously redirected state resources towards the rural poor instead of the Colombo population.
Initially he set up the Janasaviya scheme of finance for small businesses and extensive public housing programmes. In the past year, Premadasa stepped this up by enticing investment into 200 new garment factories located outside Colombo – each to employ at least 500 workers drawn from a government list of Janasaviya participants. The government also started 15,000 small-scale projects, financed by Rs 750 million (US$ 16 million) in special bonds. Every child was given a free school uniform.
Some of the spending has been misdirected. Janasaviya have often been spent on consumer items instead of productive investments, but the effort was not entirely cosmetic. Each garment factory, for example, brings in at least Rs 1 million in wages which will be spent in the surrounding area.
The rural factories scheme was sound politics in a society with a long history of state intervention in the economy. It was also insurance against a resurgence of the JVP. And Premadasa made sure than he and the UNP received all the credit, by personally opening each and every one of the factories.
'Premadasa was trying to relocated the social base of the UNP's political power,' said Colombo University social scientist Jayadeva Uyangoda. 'He was building an amalgamation of two forces – one the new business class that has been created by the UNP, and the other the rural masses.'
The late president also tried to build his base by harnessing traditional symbols of power. He was a conspicuous promoter of religion, attending rituals in Buddhist, Muslim, Hindu and Christian places of worship but paying special attention to the Buddhist hierarchy in the ancient capital Kandy. He also respected folk beliefs that mix elements of Hinduism and spirit worship with conventional Buddhism, attending prayers around sacred bo-trees in the villages. The 2 January anniversary of his inauguration as president also became an annural rite, given a Sanskrit name meaning 'Festival of the Assumption of Office.' Premadasa would receive a blessing from priests at the Temple of the Sacred Tooth in Kandy, and then present himself to the public from a chamber where the ancient rulers of the Kandy kingdom were crowned.
The upper-caste clergy at Kandy may have gritted their teeth at presumption by a person who traditionally would not have been allowed near their most holy places, but they had to accept that Premadasa was president and dispenser of government patronage. Likewise the Colombo middle class quietly approved the nasty side of Premadasa's rule. 'Whatever happened, this man was ruthless enough to save them from the JVP,' said political scientist Paikiasothy Saravanamuttu.
Memories are short however, and by 1991 the UNP old guard had become restive at Premadasa's autocracy. One sign of the changed mood was the popularity of jokes ridiculing Premadasa's attempts to create a more 'respectable' family background by fabricating his attendance record at a leading Roman Catholic school and portraying his father as a tea estate-owner. 'The attempt to impeach [Premadasa by UNP dissidents in 1991] can now be seen as a backlash from the traditional ruling stratum in Colombo, that cut across the old guard in the UNP as well as the SLFP,' Uyangoda said. 'They saw Premadasa as a usurper.'
The two leaders of the impeachment drive, Lalith Athulathmudali and Gamini Dissanayake, were both drawn from the Anglicised elite in Colombo. Premadasa put down the revolt by getting an acquiescent speaker of parliament to deny the impeachment motion, but it fed his lifelong bitterness about caste discrimination.
If the new political situation results in Dissanayake becoming president, Sri Lanka will have a leader of the old school: a suvave man of wealth and the best education. But Premadasa may well have set a style of leadership that will persist. 'If you are writing history 10 years from now,' said one diplomat, 'you would see that Premadasa marked the end of the English-educated, landed elite groups, and the beginning of really indigenous rulers.'
*****
Doubts about the LTTE's Role in Premadasa Assassination
With the passage of years, the 'LTTE did it' hypothesis [valiantly promoted by the Sri Lankan police and Premadasa apologists like Dayan Jayatilleka and the SBS industry heavies like Rohan Gunaratna and Robert Pape] has suffered from a credibility problem. For the record, I provide excerpts from three books authored by Josine van der Horst (1995), Rajan Hoole (2001) and Bradman Weerakoon (2004). None of these three authors can be tagged as pro-LTTE sympathizers. Josine van der Horst is a Dutch theologist cum anthropologist. Rajan Hoole is well recognized for his anti-LTTE sentiments. Bradman Weerakoon was a senior civil administrator who also served as President Premadasa's special advisor on International Affairs.
(1) Josine van der Horst: Who is He? What is He Doing? Religious Rhetoric and Performances in Sri Lanka during R. Premadasa's Presidency (1989-1993). VU University Press, Amsterdam, 1995, pp. 217-221.
This book by Josine van der Horst was a product of her Ph.D. dissertation that explored the links between Buddhism and politics in Sri Lanka. Though van der Horst has analyzed the Premadasa assassination event in more than 4 pages, I reproduce only one paragraph below:
"In the days and weeks following Premadasa's death I asked many of my informants how they interpreted the unusual death of a Sri Lankan President, how they viewed what had happened and the manner in which it had happened. These discussions partly centered on the abnormality and indignity of the circumstances, i.e. the fact that the remains of the President of the country should be 'scraped off the pavement' and end up in a common police morgue. But no matter how impressed my informants were by the event, they did not share the humiliation – politically or emotionally – of the head of state thus losing his life. The interpretation of possible causes of Premadasa's death too were not political. Neither the allegation that the assignment to kill the President came from the LTTE, nor the assassin as the immediate cause of the bomb-blast were taken into account. What was mentioned was that there had been a particularly ominous (asubha) sign on Friday the 23rd of April…" [The underline and italics, as in the original.]
(2) Rajan Hoole: The Arrogance of Power – Myths, Decadence and Murder. University Teachers for Human Rights (Jaffna), Colombo, 2001, pp. 284-289.
I should acknowledge that I have been a strong critic of Rajan Hoole's politico-social analyses, and his credentials as an anti-LTTE scribe are well established. But, in his 2001 book, he has allocated almost 5 pages to explore the holes in the 'LTTE did it' hypothesis. Here, I reproduce only selected excerpts:
"The suicide bomber who killed Premadasa on 1st May 1993 was said to be Kulaveerasingam Veerakumar (23) alias Babu, from Jaffna. Nearly all the details given to the Press came from Amarasena Rajapakse, DIC, CID. He had the distinction of being kept on extension 3 years past the mandatory retirement age of 60 by the Premadasa government…

A controversy that arose then was the cleaning of the site of the blast one and a half hours after the incident, contrary to the standard police practice of cordoning off the area and allowing the detectives to look for clues. According to the Sunday Times (16.5.93), the CID blamed the CDB for this, and CDB said they only followed 'orders from the top', so as to avert a major disaster – presumably communal violence…

…the information appearing in the Press is briefly as follows: Babu had come to Colombo about two years before the assassination. He had paid Rs. 650,000 to the Sinhalese owner (Raja) as advance to rent a grocery shop in front of Premadasa's residence Sucharita. He spent as much as Rs. 4,000 at a time to entertain Sucharita staff and police officers, several of whose photographs were in his album. But he did not himself participate in these orgies…

The CID further revealed (Island 14.6.93) that Babu had been in close touch with 25 members of the PSD who enabled Babu to travel in vehicles of the advance party during Premadasa's outstation tours…

After feeding through press conferences rising expectations of grand police swoops and sensational court trials of treacherous cops, the affair fizzled out as a damp squib. No one is sure what was going on in Premadasa's intimate surroundings… Rajapakse's revelations suggest that Premadasa's surroundings were brimming with louts, lewd men and traitors…If Babu had moved freely around the place, surely someone would have alerted those responsible. Afterall, a Tamil anywhere is an object of suspicion. We are also asked to believe that almost a whole platoon of PSD men had been bought over willy-nilly by Babu's largesse. This is hardly credible…

Upon further inquiry, Babu's role seemed difficult to pin down. Several persons who were directly or indirectly in Premadasa's circle doubt that the LTTE was responsible for his death. One suggestion was that the bomb was one that was thrown, rather than a human bomb. To begin with a number of officials who had been close to Premadasa, including Evans Cooray who always accompanied him on his trips, found Babu a total mystery. Only Premadasa's daughter Mrs. Dulanjalee Jayakody testified to having seen Babu 'in the Sucharita area' (Island, 10 June 94).

…In the Premadasa murder, only one person – Raja – one of the most insignificant men in the Babu episode, is known to have been punished. He was in prison for 9 months, during which time he forfeited under the PTA all his property in the business jointly run by him and Babu. He came out and remained stone-broke. There was a good deal more that was swept under the carpet."
(3) Bradman Weerakoon: Rendering Unto Caesar. Vijitha Yapa Publications, Colombo, 2004, pp. 300-304.
In reviewing this book previously for the websites, I have cited the relevant passages. Reiterating the same here won't do any harm, as Weerakoon's stature and the professional relationship he had with President Premadasa is something extraordinary. He also has alluded to the links Premadasa's assassination probably had with Athulathmudali's assassination that happened 8 days earlier. Weerakoon's impressions on the assassination are as follows:
"The facts appeared straightforward. Premadasa was killed by a bomb blast on 1 May 1993 when he had alighted from his bullet-proof jeep to wave at a long and orderly procession of people moving towards the May Day rally on Galle Face Green. The blast was so powerful that about 30 others around him, including his favourite Man Friday Mohideen and several security personnel were instantaneously killed. Who threw, planted, or carried the bomb? Since it was a public intersection in the heart of Colombo, the site was quickly cleared and the road even washed clean, in the next hour or so.

The police inquiries revealed that a Tamil youth called Babu, whose upper part of the body was discovered some 50 yards away, could be the suspect. Babu apparently had gained access to the Premadasa's household some months earlier and had been a friend of Mohideen. It was even said that Babu had accompanied Premadasa when he went in the helicopter to his Ambanpola estate.

I had never seen or heard of Babu until the Police revealed the man. I used to be a frequent visitor to Sucharita and found it strange that the name Babu had never come up earlier either in my hearing or to my vision. It was said that Babu was planted by the LTTE and that the assassination was carried out by the LTTE. However, there was no charge against anyone instituted in the courts, as would have happened in the case of any homicide, and certainly, in the case of the president of the country.

There was also other, although members of the family, especially Premadasa's daughter, Dulanjali, insistently calling fo, a public commission of inquiry into the circumstances surrounding the killing. No appointment of a commission was made, either by the Wijetunge administration, or thereafter. I followed in the press stories that came out from time to time about 20 to 30 people being held in custody for the murder of Premadasa, perhaps as accomplices of the main suspect. But these stories never ended up as actual charges against any person or persons in the courts.

It looked to me then, and even today, that there was no great desire or the part of those in authority to probe the matter further. It was good enough that the LTTE had done it. The bomb blast was their usual modus operandi especially employing young females who wore the belt around their waists. The authorities were apparently satisfied and so were the media.

However, there were some curious aspects to this. Although the war had re-started in June 1990, it had been spasmodic and the action was at a low level of intensity. There was no open indication that the LTTE was after Premadasa as target number one. Their targets so far had been military personnel, like Major General Denzil Kobbekaduwa and Rear Admiral 'Clancy' Fernando and several others. As far as I recall, the LTTE did not claim that they had done it as they had done so on some other occasions. Once in Geneva, when I met Lawrence Thilagar, whom I kept in touch with on Premadasa's instructions, and asked him point-blank why they killed Premadasa, he denied any knowledge of it.

There were also a couple of more facts that I was aware of that bothered me. Firstly, the terrible photograph of the mangled bodies of the fallen which Sudath Silva, the president's photographer who was following Premadasa in the procession had taken. It showed unmistakably a dark, tall man with tousled hair with his crumpled bicycle also among the dead. Something like a tape recorder with detached wires still appeared strapped to his upper chest. Who was this man and what was he doing on a bicycle in a foot procession so close to Premadasa at the moment of his death? His face was not that of Babu that the media was showing.

The second fact would probably be termed circumstantial by the legal people. I was one of the very few who knew about this matter. When the news of the impeachment motion against Premadasa broke and before the resolution was placed before the speaker of Parliament in terms of the Constitution, a group of MPs from the EROS party contacted me wanting an urgent appointment with the president. EROS had close ties with the LTTE. Their group of nine members were at the time of boycotting Parliament and were planning to resign. At the meeting with Premadasa at Sucharita two of the group's members Edward Ratnasabapathy and Sivagnam who had come down from Jaffna for that purpose, indicated to Premadasa that on the instructions of the LTTE they would assure Premadasa that they would call off their boycott and help support him in voting against the impeachment motion. At the time I thought it was very unusual that the LTTE would wish to protect Premadasa and see that he continued as president. It served to indicate that even though overtly conflict was ongoing between the LTTE and the government troops, as far as the LTTE was concerned, Premadasa was still the politically safer 'bet' on the Sinhala side. After all, he had opened peace negotiations with them, provided them with arms to fight the TNA and had tried to bring them into the mainstream of the Sri Lankan polity. Why then, the sudden urge to kill him on the first day of May 1993 when he had still some time to serve?

The connected fact is that when Lalith Athulathmudali was killed by a suspect LTTE gunman in a public part in Bambalapitiya on the 23rd of April, one week before Premadasa's own killing, a wave of hatred against Premadasa had begun in which slogans were scrolled on the city's walls that it was Premadasa or his friends who had murdered Lalith Athulathmudali. The question, that some people were asking at the time, had to do with the connection, if any, between Lalith's assassination and that of Premadasa's? In the absence of a public commission…Premadasa's killing will continue to be regarded as another of the unsolved murders of this particularly murky period of our modern history."
*****