Pioneer American Ambassadors in Eelam
Daniel Poor and Dr. Samuel Fiske Green
by Sachi Sri Kantha, December 24, 2011
This book is notable for providing a list of Tamil students who were trained by Dr. Green, from "class of 1848-50", to "class of 1872-75". It does also provide a photograph of students who attended Dr. Green's first medical class (1848-50). This may be one of the earliest photographs taken in Jaffna.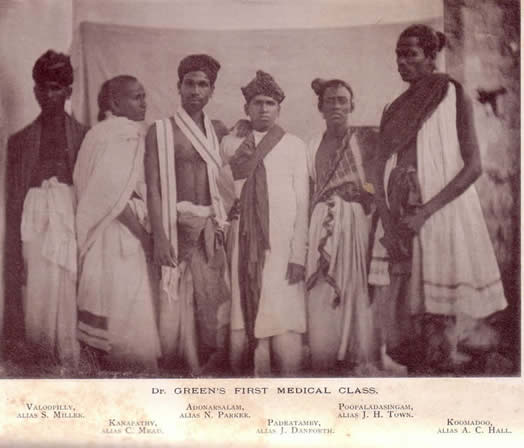 Front Note
I wrote these two sketches of pioneer American ambassadors in Eelam ten years ago, to the now closed Tamil Nation website. For the benefit of younger readers in Eelam and elsewhere, I present an updated version of these two sketches below.
Daniel Poor (1789-1855)
How the West was Won (1962) was one of my favorite Hollywood westerns, that featured so many legendary stars: Jimmy Stewart, Gregory Peck, John Wayne, Karl Malden, Henry Fonda, George Peppard, Lee J. Cobb, Carroll Baker, Debbie Reynods, Richard Widmark, Eli Wallach, Robert Preston, Raymond Massey, Walter Brennan, Thelma Ritter, Agnes Moorhead etc. It was narrated by another legendary actor, Spencer Tracy. Unusually for a movie, it had three directors: John Ford, George Marshall and Henry Hathaway. The multigenerational saga setting from 1830s to 1880s, told the story of Prescotts, a New England farming family heading towards the American West. Especially I like the character portrayal of Linus Rawlings (a trapper) played by ever-adorable Jimmy Stewart, who marries Eve, one of the Prescott daughters and fathers Zeb Rawlings, the main protagonist of the yarn. Sometimes I wonder how a complimentary tale with the title, How the East was Won [East referring to south Asia] covering the same time span can be made, describing the adventures of New England missionary families to colonial India and Ceylon.
If the American West was won by the pioneers with guns and gumption, the East was triumphed with Bible and books. The nucleus for such a story lies in the life history of Rev. Daniel Poor, one of the pioneer American ambassadors to Jaffna, who died in Manipay on February 3, 1855. His adventurous life is worth remembering by the Tamils.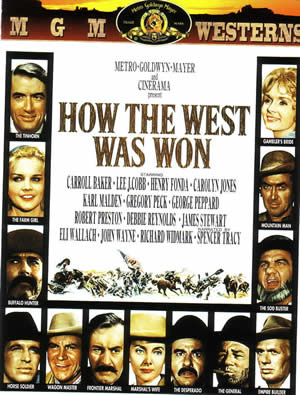 Daniel Poor was born on June 27, 1789, the youngest of the 12 children of Joseph and Mary (Abbott) Poor residing in Danvers, Massachusetts. After graduating from Dartmouth College with high honors in 1811, he entered the Andover Seminar where he came under the influence of Rev. Asa Burton and dedicated himself to foreign missions. Following graduation from Andover Seminary in 1814, at the age of 25, he was ordained as Presbyterian missionary on June 21, 1815. Poor married Susan Bulfinch of Salem, Massachusetts on October 9, 1815. Poors were accompanied by two more missionary couples (James Richards and his wife, as well as Benjamin C. Meigs and his wife) and a young bachelor missionary Edward Warren. They arrived in Colombo on March 22, 1816 and moved to Jaffna peninsula thereafter. Poors and Warrens settled in Tellipalai. Meigs' and Richards settled in Vaddukoddai.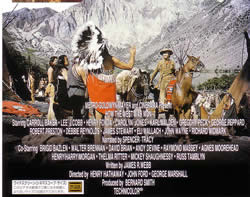 The entry in the Dictionary of American Biography provides a choronologically assembled sequence of the professional life of Poors in Jaffna. I provide here, a re-arranged chronological summary of the activities of Poor, based on this source.
"Poor, whose first station was at Tillipally [Tellipalai] began to preach at once through an interpreter, but his progress in Tamil was so rapid that he spoke the language freely in less than a year." His wife Susan died at Tellipalai on May 7, 1821, after giving birth to one son and two daughters. Of the other three missionary colleagues, bachelor Warren who was of delicate health, died in South Africa after leaving Colombo in April 1818. Richards, who accompanied Warren to Cape Town, remained there until November 25, 1818 and returned to Jaffna. He survived for three more years, and died on August 3, 1822.
Poor then married Ann Knight of Stroud, England, on January 21, 1823. According to the Dictionary of American Biography, Poor then, "moved to Batticotta [Vaddukoddai] where he founded a boarding school for boys". This school "became an important educational center for the entire region, and succeeded in sending out well-trained teachers and preachers to schools and churches. In 1835, he was transferred to Madurai, India, where he remained until 1841, when he returned to his original station at Tillipally [Tellipalai]. In 1848, he visited the United States where he created a profound impression by his able and eloquent advocacy of the cause of missions."
Poor returned to Jaffna again in 1850 and continued his work at Manipay until he fell a victim to the cholera epidemic which struck the peninsula disastrously in 1855. Meigs returned to USA only in 1858, after 42 years of stay in Jaffna and died in New York on May 12, 1862, at the age of 73.
The Dictionary of American Biography notes that, "Poor's chief literary work and an important source of his biography, is his journal, generous extracts from which were published in the Panoplist and in its successor the Missionary Herald, from 1817 to the time of his death. It is an unusually informing missionary document enlivened by vivid pictures of the manners, customs and beliefs of the [Tamil] people among who he labored. In addition to this his published works consist of tracts and letters in English and Tamil. He was a man of eminent ability and learning and an outstanding figure in the history of Protestant missions. In stature, he was short, broad-shouldered, and somewhat lacking in the physical graces, but he had a gentle spirit, a winning address and a striking personality."
Like the Prescotts in the 1962 movie How the West was Won, the adventurous life of Poors in Jaffna and Madurai, is worth for a bio-picture treatment. The movie, How the East was Won can be produced, and I have a premonition that Poor's story will be told in the future in celluloid. When will this happen? I predict that when the first or second generation of Eelam Tamils growing up in USA or Canada become influential in Hollywood in two or three decades hence, my premonition may become a reality.
Dr. Samuel Fiske Green (1822-1884)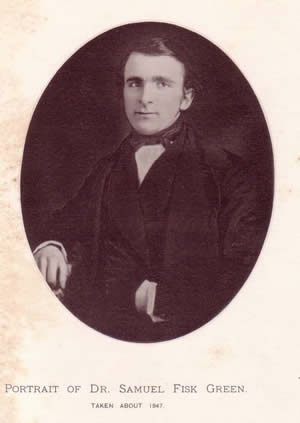 If there is one Sinhalese academic who deserves the gratitude of Eelam Tamils, my choice will be H.A.I.Goonetileke, the former chief librarian of the University of Peradeniya. His five volume compilation A Bibliography of Ceylon (1970-1983) is an irreplaceable gem, serving as the key to the portals of history and scholarship of the past inhabitants of Eelam as well as colonial Ceylon. I'm pleased to mention, one of my early contributions to the Tribune (Colombo) magazine published in 1977 received an entry in this source book. Twenty years ago, I purchased a complete set of this reference book, for my personal library, for 350 US dollars; and I haven't regretted once spending such a sum.
Another volume prepared by Mr. Goonetileka, published in 1976, by the US Embassy in Colombo, to mark the American Bicentennial celebrations was Images of Sri Lanka through American Eyes: Travellers in Ceylon in the Nineteenth and Twentieth Centuries. In this anthology, Mr. Goonetileke has introduced the link Dr. Samuel Fiske Green (1822-1884), a New Englander, had with Jaffna. The contribution of Dr. Green, who lived with Jaffna folks for nearly a quarter century from 1847 to 1873, to the Eelam soil is unique and is worth reminiscing. I provide below excerpts of biographical information provided by Mr. Goonetileke on Dr. Green.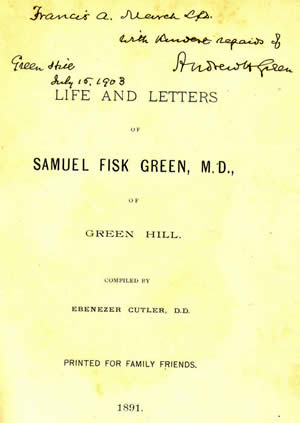 "Dr. Samuel F. Green was born at Green Hill, Worcester, Massachusetts on 10th October 1822, the son of William E. Green and Julia Plimpton. He graduated in March 1845, and a year later…on offering himself to the American Board, he was appointed to act as missionary physician to the American Mission in Ceylon. A mark of his earnestness may be remarked from the fact that he plunged into the study of Tamil immediately. He sailed alone from Boston on 20 April 1847…He arrived at Point Pedro from Madras on October 6, 1847, and was soon caught up in the practice of his profession, to which he gave abundantly and without cease for over 20 years…
He was both an outstanding physician and surgeon, despite being out of touch with advances in his profession; though he healed bodies, he considered it his primary mission to save souls, by exploiting his craft for the higher objective of evangelizing the patient. He was the medical missionary par excellence in the Asia of his period. He spoke and wrote Tamil with ease and grace, and strove heroically to spread the benefits of Western medicine and hygiene in the peninsula. He was almost fatally stricken by the cholera which raged in Jaffna in 1855. His hospital at Manipay was virtually the headquarters of medical science and training in the island, until the government instituted the Ceylon Medical College in 1870. He produced nearly 60 medical graduates, over half of them in the vernacular, and left his Tamil translations of medical books as enduring memorials of his work when he left in May 1873. He died on May 28, 1884 in the house he was born."
Sri Lanka's one medical historian, Dr. C.G. Uragoda, in his 1996 research study 'Surgery in Sri Lanka – the past' acknowledges Dr. Green's status as the foremost pioneer medical surgeon of colonial Ceylon. While citing from a 1849 Green's letter to his brother, in which the missionary doctor reported, "I have removed lots of tumors, have operated for cataract several times, for strangulated hernia once, amputated the arm once…" Uragoda wondered
"Green could not have accomplished such a formidable list of surgical operations without anesthesia, but nowhere does he mention the anesthetic used."
For details of medical procedures used by Dr. Green and the then prevailing social norms of Jaffna, one has to study the 456 page book, compiled by Ebenezer Cutler, entitled Life and Letters of Samuel Fisk Green, M.D. of Green Hill (privately) published in 1891. With some fortuitous luck, in 2004, I did purchase a hard cover copy of this book, via an internet vendor in Fort Lauderdale, Florida, for 114.50 US dollars. From an inscription in the inside cover page of the book, which states "with kindest regards of Andrew Green" and dated "Green Hill, July 15, 1903", I inferred that this Andrew Green was a brother of Dr. Green and had been a recipient of many letters from his sibling.
This book is notable for providing a list of Tamil students who were trained by Dr. Green, from "class of 1848-50", to "class of 1872-75". It does also provide a photograph of students who attended Dr. Green's first medical class (1848-50). This may be one of the earliest photographs taken in Jaffna. I provide a scan of it nearby.  That Dr. Green had managed to record the physical features of his Tamil students indicate his medical curiosity for preserving history for posterity.
Mr. Cutler's book also mentions a segment of Dr. Green's will.  In this will, Dr. Green had written as follows:
"I wish that my funeral may be conducted as inexpensively as may consist with decency and order. Let the exercises be simply to edification; and of the dead, speak neither blame or praise.
Should I ever have a gravestone, let it be plain and simple, and bear the following inscription: viz.,
SAMUEL FISK GREEN
1822-188
MEDICAL EVANGELIST TO THE TAMILS
Jesus my all "
What fascinates me about Dr. Green's professional career in Jaffna soil is that, he was contemporary of Nallur Arumuga Navalar (1822-1879). Curiously, both were born in the same year 1822, within the span of less than 100 days. Both of them would have been adversaries in the religious battles, then staged in the Jaffna soil. There is no doubt that the remarkable career of Dr. Green in Jaffna still waits for in-depth studies. Time permitting, I'll cover more about Dr.Green's letters presented in the 1891 book later.
Cited Sources
Cutler E. (compiler). Life and Letters of Samuel Fisk Green, M.D., of Green Hill. Printed for family friends. 1891.456 pp.
 Goonetileke H.A.I. Images of Sri Lanka through American Eyes: Travellers in Ceylon in the 19th and 20th Centuries, International Communication Agency, Embassy of the USA, Colombo, 1976, pp. 16-26.
Malone D (ed). Dictionary of American Biography, vol. 8, Charles Scribner's Sons, New York, 1963 reprint, pp. 68-69.
Mission in Ceylon: Extracts from the Missionary Journal of Messers. Warren, Richards, Meigs, Poor and Bardwell, commenced at Colombo, March 26, 1816. The Panoplist and Missionary Magazine (Boston), 1817, vol.13, 380-384.
Uragoda, C.G. Surgery in Sri Lanka – the past. Ceylon Medical Journal, Sept. 1996, vol.41, no.3, 111-114.
*****