Pirapaharan, Chapter 37
Heroic Death of Seelan
by T. Sabaratnam

Dear Readers,
With this Chapter I am concluding the first of this 3-volume series.
Pirapaharan has entered the scene. From the Thirunelveli ambush Pirapaharan asserts his superiority and gives a new direction to the struggle.
At this stage I seek your advice on two matters.
First, is it worth printing the series as a book?
Second, if you feel it is worthy of being printed as a book how should I set about it? I get my books printed in Chennai. You know that I will not be able to do that with this book.
I wish to declare that I am not interested in making money. I wish to donate the royalty for the book to Sangam to be used to for serious research on the Tamil Eelam Freedom Struggle.
Please advise me. Please send your suggestions to me at editor@sangam.org
T. Sabaratnam
*************************************************************************
37. Heroic Death of Seelan
The Tip off
The army, especially its intelligence unit, was put on red alert after the theft of five exploders from the KKS Cement Factory on 6 July 1983. Investigations revealed that that was the work of an LTTE group led by Seelan. The army suspected that the LTTE was up to something big. Major Sarath Munasinghe, who headed the combined army-police intelligence unit in Jaffna, goaded his men to locate the LTTE hideouts so that their attack could be preempted.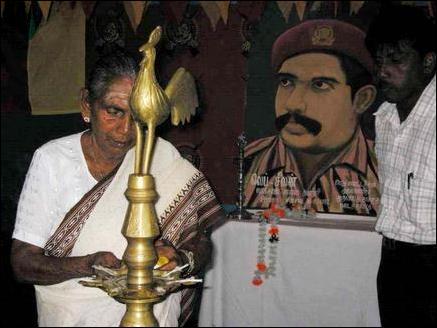 Seelan memorial 2003
###
Posted April 15, 2004