Pirapaharan 2, Chapter 1
Thirunelveli Attack
by T. Sabaratnam

(Volume 2)
1. Thirunelveli Attack
The Ambush
Pirapaharan and his men alighted from the minibus which Sellakili parked along the crossroad that connected Point Pedro Road with Palaly Road. They walked up to the junction, in small groups of two or three, turned towards Jaffna and went a further 200 meters. They assembled opposite a boutique with a flat roof enclosed by a half wall and a projecting cement hood in front.
The time was around 9 p.m. Lights were on in some houses and an elderly gentleman opened the window and looked out hearing the sound of boots.
Victor placed the gunny bag he carried on the road, walked up to the window and shouted in Sinhala to close it. He also ordered residents to put off the light.
They obeyed. They were used to obeying such rude military orders. Soldiers on road-clearing operations, which precedes the passage of army convoys, issue such commands. Pirapaharan and his men were in army uniforms and the residents mistook them for soldiers.
Pirapaharan walked up to Sellakili and Victor and watched with satisfaction the burying of the landmines in the trench the telecommunication employees had dug to lay a cable on the boutique side of the road. He did not talk to them. He just watched. He then joined the other men, unwrapping the weapons they had brought in sacks.
Pirapaharan lifted the G3 deftly and fondly wiped off the dust. Others had SMGs and rifles.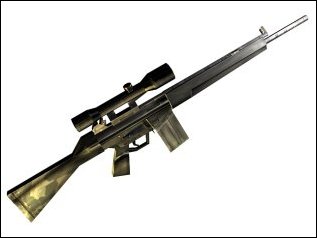 H&K G3
All the top men of the LTTE of that time were there - Pirapaharan, Sellakili, Kittu, Victor, Pulenthiran, Iyer, Santhosam, Appaiah and others, fourteen of them. They divided themselves into two groups as Pirapaharan had planned.
Pirapaharan led one and Kittu the other.
The decision to stage the attack was taken by Pirapaharan. He told the others that the army should pay a heavy price for the death of Seelan.
###
Posted April 30, 2004