T. Sabaratnam (1932-2011) Passes
Sangam mourns
March 5, 2011
"By the time I joined Lake House the foundation for the Sri Lankan conflict had been firmly laid. Since then I have reported the events that turned Sri Lanka, the Pearl of the Indian Ocean, into The Tear Drop Island and The Killing Field.

It is definitely a sad story. It is sad especially to the men and women of my generation who celebrated the birth of independent Ceylon waving frantically the Lion Flag.

I will relate this melancholy story which I was destined to cover for Tamil and English language newspapers in Sri Lanka and abroad." -- Sangam, July 17, 2010
Sangam honors T. Sabaratnam for his dedicated writing on Tamil affairs and Tamil history.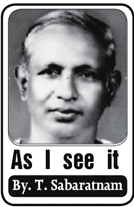 The Nation, Colombo
Most notable are Mr. Sabaratnam's biographies of major Tamil figures, including S J V Chelvanayagam, S Thondaman and A Amirthalingam. These biographies were notable for describing the social and historical context in which these major Tamil figures took action. On the Sangam website Mr. Sabaratnam posted a partial biography of Pirapaharan up to 1983, which did not find a publisher in Sri Lanka for obvious reasons. He was working on the third volume of this biography at the time of his death.
Also at the time of his death, Mr. Sabaratnam was working on a history of Tamil struggle in Sri Lanka, which unfortunately he was not able to finish. This will be a loss forever.
Mr. Sabaratnam was a journalist covering national and Tamil news for decades and later wrote opinion pieces concerning Tamil affairs that were of immense influence.
We mourn that we will not hear his voice in future and honor his memory.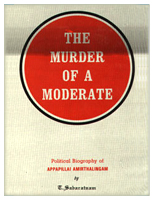 T. Sabaratnam's books --
"Out of Bondage: The Thondaman Story," 1990, Sri Lanka Indian Community Council  (Colombo), DS489.63.T66 S23 1990
"Murder of a Moderate: Political Biography of A. Amirthalingam," Dehivala : Nivetha Publishers, 1996.  426 p. : ill. ; 23 cm.  DS489.83.A47 S23 1996
*****
TAMBIAIAH SABARATNAM (retired news editor of Daily News and former Sub
Editor of Thinakaran) from Ariyalai, Jaffna. Beloved husband of Pathmavathi Sabaratnam (retired Teacher of Hindu College, Rathmalana), loving father of Sasidevi, Aynkaran and Visahan, loving father-in-law of Niranjanan, Vasuki, and Anuprabha, loving grandfather of Nivedha and Pranavan, loving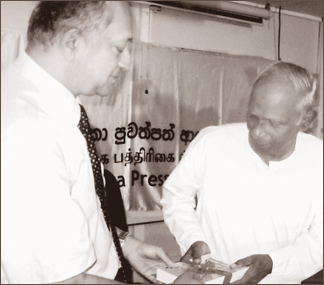 The Sri Lanka Press Institute released a book on all aspects of journalism, in Tamil recently. Veteran journalist and former Deputy Editor of the Daily News, T.Sabaratnam, (on right) who headed the team of media personnel responsible for authoring this book is seen here handing over the first copy to Chairman of the Sri Lanka Press Institute, Kumar Nadesan. Nov. 15, 2009
brother of Tharmaraja and Pathma, son of late Thambiaiah and Nagamma and son-in-law of late Thambimuthu and Yogamma, passed away peacefully at his home on the 05th of March 2011. Cremation will take place on the 9th of March 2011 at Mount Lavinia cemetery at 10 am. Home address: 21/1 P T de Silva Mawatha, Dehiwala. Tel: 011-2733096. [Daily News, Colombo, March 8, 2011]
*****
Death of veteran journalist T Sabaratnam
by Chelvatamby Maniccavasagar, Ceylon Daily News, March 7, 2011

Former Daily News Senior Deputy Editor and veteran journalist T
Sabaratnam passed away after a brief illness. He was 79. Sabaratnam, after completing his secondary education proceeded to Christian College, Madras where he obtained his Degree.

He joined the Thinakaran as a Trainee Journalist in 1957 and contributed feature
articles. When R Sivagurunathan was Thinakaran's Chief Editor and P Balasingham was News Editor T Sabaratnam functioned as a Sub Editor. After working as a Senior Sub Editor he joined the Daily News Editorial in 1978 and retired from ANCL in 1997 as Senior Deputy Editor.

As a News reporter he discharged his responsibilities with unsurpassed distinction and unsullied honour. Further he trained young journalists in balanced
and unbiased reporting. He was a remarkable translator who had translated several books and journals pertaining to politics, science, art and culture.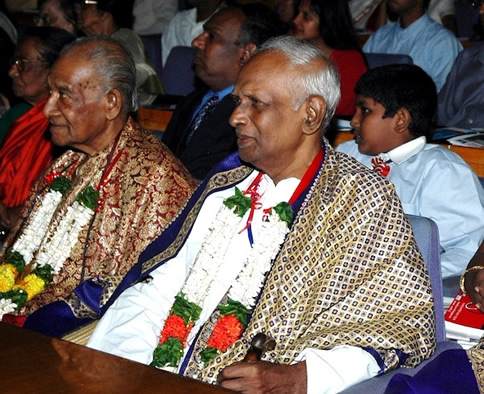 T Sabaratnam felicitated at Journalism Awards for Excellence 2007. Photo by DushiYanthini Kanagasabapathipillai

He has written books about late S J V Chelvanayagam, late S Thondaman and late A Amirthalingam. All his books were highly recognized by university professors, politicians, journalists, lawyers, judges and men of eminence.

Besides, he was a lecturer in journalism at the Colombo University, Open University and Sri Lanka College of Journalism and rendered immense service to the young students who wanted to take up journalism as a career. He was the editor of the book 'Guide to Media Studies'. The Sri Lanka Press Institute (Editor's
Guild) felicitated him for the tremendous contribution to journalism. He was a
veteran writer on scientific topics.

Further, he was a highly recognized and respected columnist who had written several articles to the Nation newspaper and other English and Tamil newspapers.

Sabaratnam was indeed an inspiration and guide to young journalists not only in the Thinakaran Editorial but even in the Daily News Editorial.

He was a robust optimist who saw good in the world than evil. He denounced falsehood and hypocrisy. He was a humanist with deep faith in humanism.

He also had a broad outlook, sagacious judgement and mellowed wisdom. He never harboured a grievance or grudge. His sincerity and steadfastness to
friends, relations and neighbours should serve as an object lesson for all where
changing loyalties and shifting attitudes are the order of the day.

Sabaratnam viewed life as a pre-ordained opportunity to attain perfection through a blend of human and divine love and to blaze a righteous trail for others to follow and perpetuate. He had an unshakable faith in God, charitable understanding, spontaneous supreme affection towards everyone, considerate kindness and inspiring piety which have notched a permanent niche for him in the
family circle.
He always practised the Bhagavad Geetha ideal of absolute detachment in
actions. Further, no field of human endeavour was left untouched by the swaying
amplitude of his imagination, the encompassing sweep of his thought and the felicity of his words.

No wonder, he left an indelible impression in most of what he touched with rare
dynamism and exemplary zeal. Undoubtedly, T Sabaratnam was literally a comet who blazed momentarily across our skies, leaving in his trail a luminescence which the passing of time can hardly erase.

He will be always remembered by all the journalists, communities and denominations for his work, worth and value.

Sabaratnam was an example of Saint Thiruvalluvar's saying: "Who just or unjust lived shall soon appear by each one's offspring shall the truth be clear." Indeed, he is survived by his wife who was a science graduate and three children
who are excelling in their respective professions.

His loss is irreparable to all of us and painful. The thought of his death is
poignant, but his memory is fragrant.
May I say:
"Goodnight Sweet Prince and may the flights of Angels sing thee to thy
rest."
--------------------------------------------------------------------------------